Terrence A. Arnold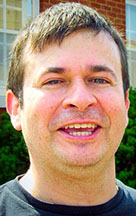 Terrence A. Arnold, 45, of Warrensburg, died Tuesday, Jan. 14, at St. Luke's Hospital in Kansas City, Mo.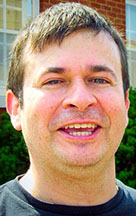 A memorial service will be held at 2 p.m. Friday, Jan. 16, at the First Presbyterian Church of Warrensburg with the Rev. Heather Jepsen officiating. Inurnment will be at later date.
He was born May 29, 1969, in Portland, Oregon, the son of Penny Stansberry, formerly of Beaverton, Oregon, of Huntsville, Missouri.
Graduating from Tustin High School, in Tustin, California, in 1987, Arnold believed strongly in the value and importance of education. He earned an associate degree from Moberly Area Community College in 1993 and a Bachelor of Science in journalism from Central Missouri State University in 1996. He achieved his highest education honor in 2010, earning a Master of Arts in education from the University of Central Missouri.
Professionally, Arnold pursued a career as a gifted professional journalist, including beat reporting duties at the Daily Star-Journal, Higginsville Advance, and the Sac-Osage Newspaper Publishing. Arnold earned the respect of his peers through his natural writing and his ability to deeply engage with interview subjects – whether a local merchant or a U.S senator – with an active ear for the story behind the story.
He was an avid music fan with a variety of tastes, spanning genres from classic country to late 80s Southern California punk rock and was also a strong supporter of live local music. He traveled extensively throughout the United States and enjoyed road and float trips with friends. He was also an animal lover who deeply cared for his beloved pets.
A man of faith, Arnold attended First Presbyterian Church of Warrensburg, where he was a deacon and offered the deepest expression of his Christian life while traveling with a church group to the African country of Malawi with members of his church family in August 2014, where he worked on village infrastructure projects and an orphanage for children whose parents were lost to AIDS.
He was known for his generosity of spirit and willingness to help a friend, or stranger, in need. He was also a man of strong political, social and religious beliefs and never shied from a debate when he felt strongly about an issue. He was a student of history and current events, and read extensively on a wide range of subjects.
Arnold preferred a hug to a handshake and was admired and respected among his friends for his willingness to listen without judging and to stand shoulder-to-shoulder with those he cared about as they faced life's challenges.
He was preceded in death by his stepfather, Charles R. Arnold, of Billings, Montana; his grandfather, Van D. Crowson, of Denver; and his grandmother, Emma Hardin, of Moberly, Missouri.
He is survived by his mother, Penny Stansberry, and her husband, Ron, of Moberly; his brother, Justin Arnold, of Helena, Montana; and many dear friends.
In lieu of flowers, the family requests donations be made to First Presbyterian Church of Warrensburg in support of their charitable missions, and to the Community Food Bank of Warrensburg.