Mules facing the option offense
Story by Jason Strickland, Sports Editor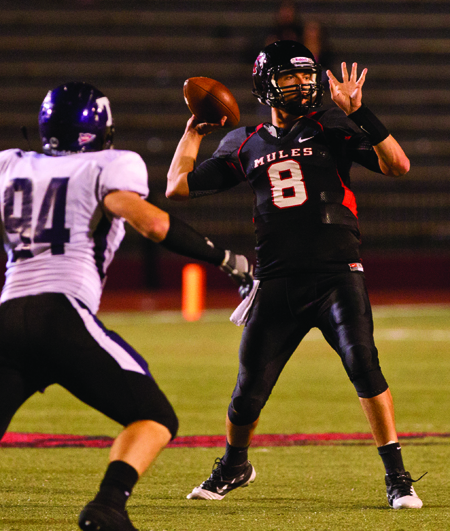 Even though Mules football is known for its explosive offense, this year's team has proven that defense is alive at Central.
The Mules (3-1, 3-1) are fourth in the MIAA in total defense, which is led by senior defensive end Latavious Davis, who leads the MIAA in sacks (6) and forced fumbles (5).
Central's defense has a much different task this week, though – stopping Missouri Southern's (3-1, 3-1) option offense.
"You try to replicate it in practice as best you can…fortunately we have a couple of extra days this week since we played on Thursday, so that helps out," head coach Jim Svoboda said.
"It's assignment football, so they are going to have a dive, they are going to have a quarterback keep and a pitch on most of their plays," he said. "Of course, the play action is difficult with it as well, so it's a challenge to get ready for in one week when you haven't seen it before, and probably won't see it again."
Southern is second in the conference in rushing offense, with 268.5 yards per game. Senior quarterback Kellen Cox is the second leading rusher in the MIAA with 111.5 yards per game. He only averages about 39 yards per game through the air, and has zero touchdown passes.
The Lions' offense will not only test the Mules, the defense will as well. Southern leads the MIAA in total defense, which allows 284.5 yards per game.
It will be a matchup of Central's 11th ranked rushing offense against Southern's top conference run defense, but the Mules' third ranked passing offense will go up against the Lions' 10th ranked pass defense.
Redshirt junior Colter Smith leads the Mules' pass offense with 270.5 yards per game, but has eight interceptions.
"You can't let them affect you or it gets you down," Smith said. "You have to have a little bit of amnesia as a quarterback, so I try to do that and just forget about it, and go out and play and stick to our reads. [I] get a little bit more basic and just make sure I'm staying within our offense."
The Lions also lead the MIAA in time of possession with nearly 36 minutes per game, so the Mules may have few opportunities on offense.
"We have to be efficient," Smith said. "Last week we were really efficient with third down and with the red zone, but the turnovers, the five turnovers by myself killed us, so we've just got to be efficient."
A win for the Mules would be their sixth straight against Southern, and their 14th out of the last 16 meetings.
It would also give Central its fourth straight victory this season, which has not happened since 2010 when it won eight consecutive games.
Last season the Mules had two different three-game winning streaks, but were snapped by Northwest Missouri State in a 38-20 loss during Homecoming and by West Texas A&M in a 26-7 loss in the Lower Kanza Bowl.
The game kicks off at Walton Stadium at 1:30 p.m. Saturday.