Evelyn Faye Kimbley
Evelyn Faye Kimbley, 94, of Warrensburg, Mo., died Wednesday,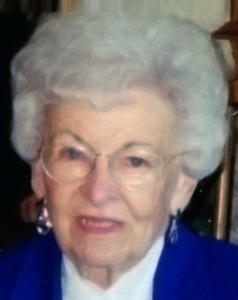 Nov. 26, 2014, at Western Missouri Medical Center in Warrensburg, Mo.
Funeral services were held at 2 p.m. Tuesday, Dec. 2, at Sweeney-Phillips & Holdren Funeral Home in Warrensburg, Mo., with Pastor Jerry Basye officiating. Pallbearers were be Chad Kimbley, Jason Stabenow, Gary Riegel, Robert Carrel, Jason Vanfossan, and Tim Broockerd.
Internment followed at Sunset Hill Cemetery.
Evelyn was born Nov. 17, 1920, in Cowgill, Mo., the daughter of Thomas R. and Ocea F. (Gannaway) Swartz.
She was united in marriage to Laverne E. Stabenow and he preceded her in death on May 18, 1967. Then on Nov. 18, 1967, she was united in marriage to Jimmie Edward Kimbley in Warrensburg, Mo.
Evelyn graduated from Braymer High School, Class of 1937. She then attended and received her two-year degree from Chillicothe Business College. Evelyn worked as a secretary at Reese Elementary School for several years, and later worked as a secretary and accountant for R.D. Robinson Construction Company until her retirement. She loved to travel, was an avid golfer, bridge player and was devoted to her family. Evelyn was a member of the First Christian Church in Warrensburg, Mo.
Evelyn is survived by her husband Jim, one son, Phillip M. Stabenow and wife Linda of Lee's Summit, Mo.; one step-son, Gerald E. Kimbley of Warrensburg, Mo.; one daughter, Cheryl Hottle and husband Vern of Lee's Summit, Mo.;, three sisters, Edna Riegel of Kansas City, Mo.; Donna Carrel of Shawnee, Kan.; and Shirley Hanshaw of Riverside, Mo.; eight grandchildren and 18 great-grandchildren
Memorial contributions are suggested to the First Christian Church of Warrensburg, MO, or the Shriner's Hospital for Children and both can be left in care of the funeral home.