James 'Gus' Roy Tyroler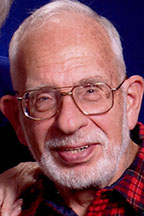 James "Gus" Roy Tyroler, 79, of Warrensburg, Mo., died Friday, Sept. 12, at Western Missouri Medical Center.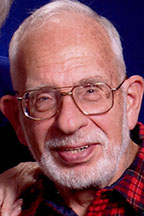 Funeral services will be at 2 p.m. Wednesday, Sept. 17 at Northside Christian Church in Warrensburg, with Pastor Sid Teller officiating. Interment will follow at Sunset Hill Cemetery with full military honors. Family will receive friends from 1 p.m. until service time Wednesday at the church. Pallbearers will be Steve and Brian Purinton, Aaron Engelhardt, Lou Sharp, Seth Roskop and Chad Weigand.
He was born Oct. 8, 1934, in Detroit, Mich., the son of Maurice and Leah Tyroler.
Gus was drafted to the Naval Reserve upon turning 18 in October 1952. He graduated from Waterford Township High School in Michigan in 1953. In 1955, he joined the Air Force where he attended radio operation school at Keesler Air Force Base in Biloxi, Miss. After his training, he was a ground radio operator in Fukuoka, Japan, at an aircraft warning site on the island of Kyushu from 1956 to 1957. In 1957, Gus moved to Whiteman Air Force Base and lived in Sedalia, Mo. In 1959, Gus was honorably discharged from the 340th Operations Squadron, Strategic Air Command at Whiteman. He then worked for Atlantic and Pacific Tea Company for 9 1/2 years. He worked for Budweiser in Sedalia for seven years before he began working at Bi-Lo grocery store. He began working as the liquor department manager before going to work in the dairy/frozen food department.
While Gus was working at Bi-Lo, he met his future bride, Lynne Purinton. They married on Sept. 8, 1984 gaining him two sons, Steven and Brian. Gus was overjoyed at the births of his and Lynne's granddaughters. Gus and Lynne did a lot of traveling to Canada, the Rocky Mountains, Florida, Texas, Louisiana, Mississippi, and the Gulf Coast. They went on several float trips that they enjoyed tremendously, especially when they got to take their granddaughters. Gus retired from Bi-Lo in 2004, though he continued to work part-time while he and Lynne continued to travel and enjoy retirement. Gus and Lynne were active members of Northside Christian Church.
Gus is survived by two sons, Steve Purinton of Warsaw; and Brian Purinton and wife, Jeanette, of Chilhowee; six grandchildren, Mandy Weigand and husband, Chad, of Warrensburg; Amber Engelhardt and husband, Aaron, of Lee's Summit; Sadie Purinton of Warrensburg; Seth Roskop of Chilhowee; Emily Purinton of Chilhowee; and Molly Purinton of Warsaw; and one brother, Randy Johnson, of Troy, Mich. He was preceded in death by his wife, Lynne, on Feb. 6 and his parents.
Memorial contributions are suggested to Northside Christian Church, Johnson County Hospice, or the Show-Me Christian Youth Home and can be left in care of Sweeney-Phillips and Holdren Funeral Home.