Aaron Ray Miller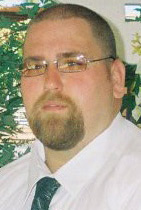 Aaron Ray Miller, 40, of Warrensburg, Missouri, died Wednesday, June 11, as the result of a motorcycle accident.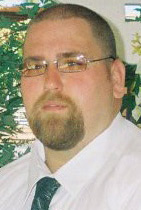 Memorial services will be held at 2 p.m. Saturday, June 14, at Sweeney-Phillips and Holdren Funeral Home in Warrensburg with pastor Paul Mapes officiating. Pallbearers will be Dwayne Trokey, Shane O'Connor, Robbie Meyers, Jeff Parsons, Bill Brasel and Brian Hannerhan.
Cremation is planned.
He was born March 6, 1974, in Warrensburg, the son of Robert Wayne and Penny Jo (Allen) Miller.
He was united in marriage to Alison Revard on Sept. 26, 2011, in Las Vegas, Nevada.
Aaron was a graduate of Leeton High School, class of 1993. He then attended and received an associate's degree in criminal justice at the University of Central Missouri.
Aaron worked as a detective for the Johnson County Sheriff's Office for the past 18 years. He enjoyed fishing as well as working on and riding motorcycles. Aaron loved his daughter, his family, and enjoyed coaching the girls youth softball in Windsor, Missouri.
Aaron is survived by his daughter, Morgan Miller of Warrensburg; his stepson, William Spargo of Independence, Missouri; his brother, Jeremy Miller and wife, Cher, of Warrensburg; his niece, Leah Miller of Warrensburg; his nephew, Alexander Miller of Warrensburg; his father, Robert W. Miller and wife, Marsha, of Leeton; and his wife, Alison Miller of Gladstone, Missouri.
He was preceded in death by his grandparents.
In lieu of flowers, memorial contributions are suggested to the Aaron Miller Memorial, c/o First Central Bank, P.O. Box 477, Warrensburg, MO, and can be left at the funeral home.