Mary Ann Greife, 88, of Yuma Az., has died; memorial service is Aug. 18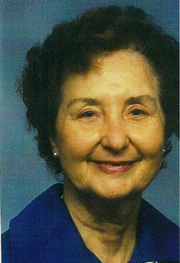 (YUMA, Ariz.) – Mary Ann (Carnahan) Greife, 88, of Yuma, Ariz., died Tuesday, Aug. 14, 2012, at St. Luke's Hospital in Kansas City after a short illness.
Mary Ann was born May 17, 1924, in Womac, Ill., the daughter of Everette Edward and Ila Fern (Padgett) Carnahan.
She married Karl Wesley Greife on Nov. 6, 1948 in Kansas City, Mo. He preceded her in death on March 3, 2009.
Mary Ann graduated from Olathe High School in 1942 and attended college and studied nursing. She lived for three years in Ethiopia, Africa, working for Trans World Airlines. Mary Ann returned to Missouri where she made her home in Pleasant Valley. After retirement, she and her husband Karl traveled between a summer residence in Wheatland, Mo., and a winter residence in Yuma, Ariz., eventually settling full time in Yuma.
Mary Ann was an avid gardener who transformed her dry, desert home in Yuma into a lush, green oasis. She was a gifted oil painter, who loved portraying the Southwest in her special style. Mary Ann loved to read and had a keen interest in current events and finance. She loved to travel and took many trips around the world with Trans World Airlines visiting places like Bangkok, Cairo and Frankfurt. Her most recent trips were back to Egypt with her daughter Alice and granddaughters Sarah and Kathleen, and Hawaii with Alice, John, Sarah and Kathleen.
Mary Ann is survived by her two daughters, Alice Greife and husband John Zey of Warrensburg; and Karla Moriatry and husband Chris of Cincinnati, Ohio; five grandchildren, Sarah and Kathleen Zey of Warrensburg; and Matthew, Michael and Samantha Moriatry of Cincinnati, Ohio; and a half sister, Nancy Carnahan Jenkins; and a niece and nephews.
Memorial services will be held at 2 p.m. Saturday, Aug. 18, 2012, at Sweeney-Phillips & Holdren Funeral Home in Warrensburg with Pastor Mike Cassidy offiiciating.
Inurnment will be at a later date at White Chapel Cemetery in Kansas City, Mo.
The family will receive friends and family from 1:00 p.m. until service time Saturday at the funeral home.
Memorial contributions are suggested to the National Audubon Society and can be left in care of the funeral home.