Mary Grace Patrick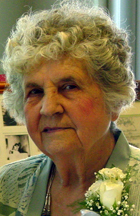 Mary Grace Patrick, 86, of Raymore, Mo., formerly of Warrensburg, died Sunday, June 16 at Research Medical Center in Kansas City, Mo.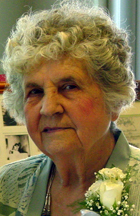 Graveside services will be held at 1:30 p.m. Wednesday, June 19 at Sunset Hill Cemetery in Warrensburg with Pastor Mike Cassidy officiating.
She was born May 9, 1927, in Warrensburg, the daughter of Frank and Katherine (Taylor) Parsons.
She was united in marriage to Billy Max "Bob" Patrick on June 15, 1946, in Warrensburg. He preceded her in death on March 25, 2013.
Mary graduated from Warrensburg College High School in 1945. She helped open and worked as a manager of Louie's Farm and Home in Warrensburg for more than 20 years until her retirement in 1987. Mary liked to travel with her husband, Bob. She was a former member of the Warrensburg United Methodist Church.
Mary is survived by her son, Steve Patrick and wife, Janet, of Peculiar, Mo.; two granddaughters, Shannon and Kari; four great-grandchildren, Darin, Amber, Haley and Patrick; one step-granddaughter, Bonnie; and one step-grandson, Trea.
She was also preceded in death by her parents and two sisters, Doris Sheperd and Amilia Smith, and one brother, Leon Parsons.
Memorial contributions are suggested to the UCM Alumni Association and can be left in care of the funeral home.