Jim Myers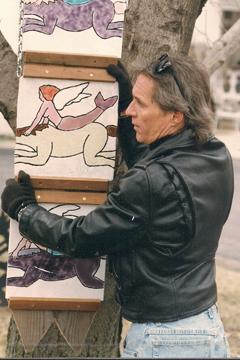 Jim Myers died unexpectedly on Saturday, June 15.


A celebration of life to honor Jim's memory will be held from 1-4 p.m. Friday, June 21 at the home of Bryn and J.C.
James Thomas Myers was born on Jan. 9, 1958, in Santa Monica, Calif., the son of Byron J. and Rosilea E. "Jake" (Stark) Myers. Jim was raised in Warrensburg, Mo., and was a 1976 graduate of Warrensburg High School. He attended the Hollywood Art Center School as well as the Paris American Academy of Art.
Jim was a prolific and talented artist known for his painting and sculptures. His work was primarily mixed media, using a wide variety of materials from driftwood to bronze to plastic toys. He showed and won recognition in regional as well as international art fairs. Jim's sculptures, which can been seen throughout Warrensburg as well as Kansas City, have caught the eye of many passersby, and have even been featured in travel shows and travel guides.
Jim had a playful and adventurous spirit which took him to many far flung parts of the world, making many dear friends along the way. Jim enjoyed a full life of travel, boating and even flying as a licensed pilot. In Jim's life, the music couldn't be loud enough, the road couldn't be driven fast enough, and the oceans couldn't be vast enough. Jim read voraciously and never met an animal that he didn't like.
He is survived by his wife, Teena Sue Simon, of the home; sisters Nancy Myers, of Greensboro, N.C.; and Bryn Myers (Jim Clear), of Warrensburg; nieces, Mattea and Bene, of Warrensburg; and Katie ("Cúco") Gutierrez ,of Lincoln, Neb.; step-children, Naowna Simon, of Brooklyn, N.Y.; and Cole Simon, of Warrensburg; step-grandchildren, Noah Plute, of Knob Noster, and Colin Simon, of Warrensburg; cat, George, and dog, Max, of the home.
The family has chosen to honor Jim's spirit with a memorial scholarship for the arts. Donations to the Jim Myers Memorial Scholarship will be accepted at Economy Lumber, 901 Simpson Drive in Warrensburg or can be mailed to PO Box 65, Warrensburg, MO 64093.