Jeannine "Kaye" Myers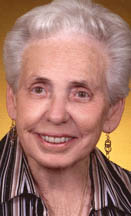 Jeannine "Kaye" Myers, 82, of Warrensburg, died Tuesday, June 11 at the Country Club Care Center.


A funeral was held Saturday, June 15 at Sweeney-Philips & Holdren Funeral Home in Warrensburg with Pastor Sid Tiller officiating. Pallbearers were Chris Myers, Bob Myers, Jarrod Reynolds, Scott Myers, Eric Kuhn and Charlie Lund. Honorary pallbearers were Mitchell Myers, Cody Myers, Tyler Myers, Jake Myers, Jacob Reynolds, Lynn Hutchins, Gerald Kimbley, Jerry Seigal, and Mike Looney.
Interment followed at Warrensburg Memorial Gardens.
The family received friends from 5-7 p.m. Friday, June 14 at the funeral home.
She was born Aug. 2, 1930, in Codell, Kan., the daughter of Harold Clifford and Florence Thelma (Adams) Gellatly.
She was united in marriage to James Chester "JC" Myers on Aug. 10, 1947, in Hotchkiss, Colo.
Kaye attended Hotchkiss High School. She worked at JC Myers Construction Company Inc. throughout her entire career. Kaye then worked at Central Missouri State University and finally as a real estate broker until her retirement. She was a member of the OES No. 3 in Warrensburg, where she served as OES Grand Ruth in 1983; a member of the Dozen Club, a bridge group, and a member of the WD40's. Kaye loved being with her family, grandchildren, and people.
Kaye is survived by her husband JC; her son, Don Myers and wife, Lorrie, of Warrensburg; and Richard L. Myers and partner, Becki Jenkins, of Warrensburg; her sister, Karen Martin and husband, Harold, of Hotchkiss; her brother, Gary Gellatly, and partner, Gail, of Cortez, Colo.; her step-sister, Dixie Kenyon and husband, Calvin, of Chester, Neb.; five grandchildren, 11 great-grandchildren, three great-great-grandchildren and many nieces and nephews.
She was preceded in death by her parents, one daughter, Pamela Jean Myers, and step-brother, Mick Springer.
Memorial contributions are suggested to the Northside Christian Church or Corinthian Lodge No. 265 and both can be left in care of the funeral home.