Stanley Charles Clendenin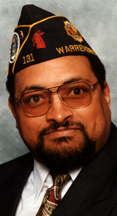 Stanley Charles Clendenin, 63, of Warrensburg, died Wednesday, May 29 at the Veterans Medical Center in Kansas City, Mo.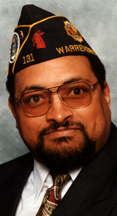 A funeral is scheduled for 10 a.m. Tuesday, June 4 at the Bethlehem Lutheran Church in Warrensburg with Pastor Joel Kurz officiating. Pallbearers will be Christopher Cooper, Jevon Savage, Samuel Stokes, Tyrone Clendenin and Carl Browne.
Interment will follow at Warrensburg Memorial Gardens.
The family will receive friends from 6-8 p.m. Monday, June 3 at Sweeney-Phillips & Holdren Funeral Home in Warrensburg.
He was born Dec. 30, 1949, in New York, N.Y., the son of Chanston and Thelma Lee (Rhodes) Clendenin.
He was united in marriage to Cynthia Gloria Hines on Dec. 26, 1971 in Jacksonville, Ark.
Stanley served in the U.S. Air Force from 1969 to 1982 and retired with the rank of staff sergeant. He was a loving husband, father and grandfather. Stanley was a member of the Warrensburg Optimist Club, American Legion Post 131, the Mentor Club, and a member of the Bethlehem Lutheran Church in Warrensburg.
He is survived by his wife, Cynthia; his four daughters: Stephine Clendenin, of Russellville, Ark.; Kamala Stokes and husband, Samuel, of Kingston, N.Y.; Kara Savage and husband, Jevon, and Christina Cooper and husband, Christopher, all of Warrensburg; his mother, Thelma Lee Clendenin-Pollack, of Long Island, N.Y.; his sister, Dianne Browne, of Trenton, N.J.; his brother, Tyrone Clendenin, of Virginia; and 12 grandchildren.
Stanley was preceded in death by his father.
Memorial contributions are suggested to the Bethlehem Lutheran Church and can be left in care of the funeral home.