Leora S. Kuhlman, 94, of Knob Noster, died Thursday, April 11 at the Rest Haven Convalescent and Retirement Home in Sedalia, Mo.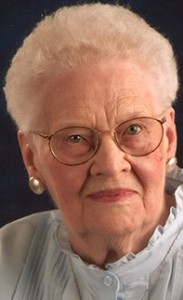 Funeral services will take place at 10:30 a.m. Saturday, April 13 at Sweeney-Phillips & Holdren Funeral Home in Warrensburg with Pastor Jeremy Freeman officiating.
Interment will follow at Knob Noster Cemetery.
Pallbearers will be her grandsons: Thad Fleming, Derek Kuhlman, Mitchell Demand, Michael Demand, Matt Demand, Erik Kuhlman, Josh Kuhlman, and Sam Swihart.
The family will receive friends from 9:30 a.m. until service time Saturday at the funeral home.
She was born May 27, 1919, in Rural Concordia, Mo., the daughter of Julius F. and Emma (Meyer) Lohman.
On March 16, 1940, she was united in marriage to Glen Kuhlman in Warrensburg. He preceded her in death on Oct. 3, 1993.
Leora graduated from Warrensburg College High School in 1937. She then attended Business College in Kansas City and worked for Kansas City Power and Light in the bookkeeping department. Leora then moved to the family farm in Knob Noster.
She worked as a nurses' aide and then bookkeeper at Johnson County Memorial Hospital in Warrensburg where she retired in 1985 after more than 34 years of service. Leora was a member of the Emanuel Lutheran Church north of Knob Noster, where she taught Sunday school and played the piano and was a member of the Ladies Auxiliary Knob Noster Post #4195. She loved spending time with her husband at the Lake of the Ozarks, crappie fishing and canning out of their garden.
Leora is survived by her daughter, Sue Demand and husband Gail, of Smithton, Mo.; two sons: Don Kuhlman and wife June, of Knob Noster; and Gary Kuhlman and wife Peggy, of Sedalia, Mo.; 10 grandchildren, 18 great-grandchildren, one great-great-grandchild, and several nieces and nephews.
She was preceded in death by her parents; one son, Phil Kuhlman on March 6, 2001; and one great-grandson, Daniel.
Memorial contributions are suggested to Bothwell Hospice and can be left in care of he funeral home.
Story continues below advertisement