Alan J. Woods, Sr.
Alan J. Woods, Sr., 53, of Warrensburg, died Saturday, April 6 at Research Medical Center in Kansas City.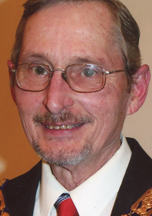 Funeral services will take place at 11 a.m. Thursday, April 11 at Sweeney-Phillips & Holdren Funeral Home in Warrensburg with Evangelist Rick Rehkop officiating.
Interment will follow at Warrensburg Memorial Gardens with full military honors.
Pallbearers will be Zackery Scheepsma, Jake Corson, Mike Rehkop, Blondy Lakey, Travis Kiral, and Rodney Rehkop. Honorary pallbearers will be Rick Patterson, Jerry (Coach) Siegel, Jason Foose, Jimmy Gill, Tom Mullins, Craig Cisna, Dan (Taco) Lockhart, Russell Crim, Dave Teeter, Larry Patrick, John Taylor, Derrick Gill, Randy Eschliman, Alan Eschliman, Jerry (Rock) Burch, Mike Fisher, Lynn Hutchins, Henry Beykirch, Larry McKenzie, Curtis Rehkop, Steve Rehkop, Rick Rehkop, Bobby Palomo, and Bryon Burden.
The family will receive friends from 9:30 a.m. until service time Thursday at the funeral home.
He was born Jan. 13, 1960, at the U. S. Naval Base on the island of Guam, the son of Harvey F. and Laura L. (Wright) Woods, Sr.
On Sept. 29, 1984, he was united in marriage to Sandy L. Rehkop in Concordia, Mo.
Alan joined and served eight years in the U.S. Air Force from May 1978 to March 1986 retaining the rank of Staff Sergeant and also served two years in the Missouri National Guard.
Alan worked as the General Manager for both Denny's Restaurant and Long John Silver's in Kansas City, Mo. and was the owner and operator of AJ Total Auto Repair in Clinton, Mo. In 1995, he became the owner of Tip Top Towing & Auto Repair in Warrensburg, where he retired in 2011. Alan enjoyed fishing, working on cars, playing cards, gardening, and spending time with fellow Elks members.
He was a member of the New Apostolic Church of Sedalia, Mo. Alan was a member and past Exalted Ruler of the Warrensburg Elks Lodge #673 as well as a past District Veterans Representative for Elks Lodges in Missouri, and a member of the Warrensburg American Legion Post #131.
Alan is survived by his wife Sandy; his son, Alan James Woods, Jr. and wife Ashley, of Browns Mills, N.J.; two daughters: Sarah Battles and husband Tyson, of Warrensburg; and Nicole Scheepsma and husband Zackery, of Eielson Air Force Base, Alaska; three brothers: Harvey Woods, Jr., of Leeton, Mo.; Kenneth Woods and wife Tammy, of Quitman, Miss.; and Thomas Woods and companion Trish Palomo, of Leeton, Mo.; his sister, Linda Woods and companion Vicente Naputi, of Hereford, Ariz.; three granddaughters: Ashley Austin, Haven Woods, and Samantha Battles; and two grandsons, Austin Woods and Carter Scheepsma.
He was preceded in death by his parents.
In lieu of flowers, memorial contributions are suggested to Warrensburg Elks Lodge #673 Veterans Fund and can be left in care of the funeral home.