Kenneth T. Carter
Kenneth Thompson Carter, 83, died April 2 at his home in Warrensburg, Mo.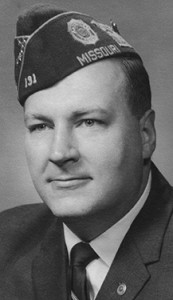 Memorial services will take place at 1 p.m. Friday, April 5 at the United Methodist Church, 141 E. Gay St. in Warrensburg, Mo. with Reverend Louie Lowe officiating.
Kenneth was born Sept. 7, 1929 in Marshall, Mo. the son of Eugene Sears and Helen Frances (Thompson) Carter.
He graduated from Marshall High School, attended Central Missouri State College and then served in the U.S. Army, from which he was honorably discharged in 1953.
He married Eleanora Tuckwiller on Oct. 16, 1954. They owned and operated Vernaz Drug Store in Warrensburg, Bard's Drug Store in Sedalia, and Carter's Hallmark in Warrensburg.  Following his retirement he pursued his true passion, selling peaches from the back of his white pickup truck each summer with his grandchildren.
Kenneth was dedicated to his community. He was an active member and served in leadership roles in the following organizations: president – Warrensburg Chamber of Commerce; commander – American Legion Post 131; president and Melvin Jones Fellow – Lions Club; and secretary – Elks Club 673. He was a long-time member of the Rusty Zippers Club.
Kenneth is survived by his wife, Ellie, of the home; sons: Greg (Ellen) Carter, of Joplin, Mo.; Gary Carter, of Warrensburg; and Glen (Janet), of Dallas, Texas; grandchildren: Logan, Lauren and Luke, of Warrensburg; Grant and Grace, of Dallas, Texas; and great-grandchildren: McKenna, Tessa and Rylee, of Warrensburg.
He was preceded in death by his parents and his brothers, Meredith and Gene.
In lieu of flowers, the family suggests memorials to be made to the Warrensburg First United Methodist Church Building Fund and can be left in care of the funeral home.