Betty Lou Allen, 89, of Warrensburg, has died; funeral is Aug. 29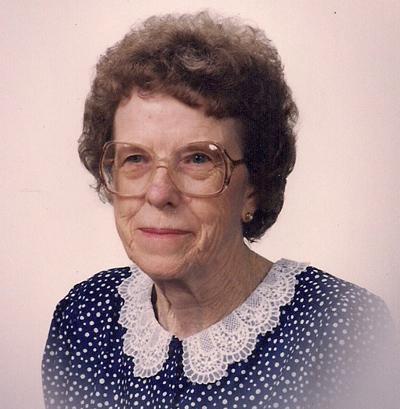 (WARRENSBURG, Mo.) – Betty Lou Allen, 89, of Warrensburg, died Wednesday, Aug. 22, 2012, at the Western Missouri Medical Center.
She was born Oct. 18, 1922, the daughter of Bradley and Dorothy Compton.
On Feb. 17, 1943, she married Eugene L. Allen in Warrensburg. He preceded her in death on Jan. 31, 1982.
Betty was a homemaker and retired seamstress from Unitog. She was a very devoted wife, mother, and grandmother. She always thought of others before herself. Even in the later days of her life, confused by Dementia, talking about her grandchildren and great-grandchildren brought a smile to her face. Betty was a member of the Cumberland Presbyterian Church.
Betty is survived by one son, Tim Allen and wife Robin of Warrensburg; three grandsons: Timmy Alten and wife Ericka of Columbia, Mo.; Cody Allen and wife Rachael of Aurora, Colo.; and Eric Elder and companion Jamie of Warrensburg; one granddaughter, Terra Allen of Warrensburg; four great-grandsons: Donavyn Allen, Harper Allen, Hendrix Alten and Jaxson Elder; two great-granddaughters: Jorja De'ne Allen and Savannah Alten. Betty is also survived by three half brothers, Bob, Ivan and Clyde Compton all of Warrensburg; and one half sister, Janice Angel of Warrensburg.
Betty was also preceded in death by her parents, three brothers Bill, Bradley Ray and Carl Compton; one sister Laura Gaddie; three stepbrothers James, Harold and Charles Weess.
Funeral services will be held at 10 a.m. Wednesday, Aug. 29, 2012, at Sweeney-Phillips & Holdren Funeral Home in Warrensburg with Reverend Randy Crawshaw officiating. Pallbearers will be Timmy Alten, Cody Allen, Eric Elder, Paul Compton, Mike and Jerry Gaddie.
Interment will follow at Warrensburg Memorial Gardens. Visitation will be held from 6 to 8 p.m. Tuesday, Aug. 28, 2012, at the funeral home.
Memorial contributions are suggested to the Warrensburg Senior Center and can be left at the funeral home.