Minnie M. Loveall
Minnie M. Loveall, 100, of Warrensburg, died Wednesday, March 20 at Country Club Care Center.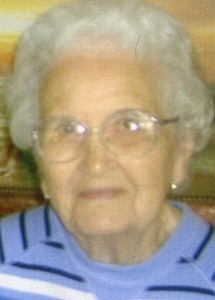 Graveside services will take place at noon Saturday, March 30 at Sunset Hill Cemetery in Warrensburg. Reverend Randy Crawshaw will be officiating.
Pallbearers include Randy Loveall, Chris Loveall, Kevin Loveall, Robert E. Loveall, Barry Loveall, Scott Schumacher, and Ed Schumacher.
The family will receive friends from 10:30 to 11:30 a.m. Saturday, March 30 at Sweeney-Phillips & Holdren Funeral Home in Warrensburg.
She was born July 16, 1912, in Aullville, Mo., the daughter of Robert F. and Abigail (Gardner) Shinkle.
Minnie worked as an electronics assembler at the Bendix Corporation in Kansas City for many years before retiring in 1975. She was a member of the Cumberland Presbyterian Church in Warrensburg.
Minnie is survived by her daughter in-law, Sue Ann Loveall, of Gladstone, Mo.; 10 grandchildren, Julie Loveall Mellor, Chris, Kevin, Robert E., Erin, Randy, and Barry Loveall, Michelle Loveall Jury, Jackie Dunne, and Connie Houghland; two nieces, Marilyn Schumacher and Mary Ann Smith; three nephews, Mark, John, and Jim Shinkle; dear friend, Helen McMurphy, 32 great-grandchildren, and 10 great-great-grandchildren.
She was preceded in death by her parents, two sons, Robert J. and Jack D. Loveall, one grandson, Jeff Loveall, one sister, Marie Spence, one brother, Redin Shinkle, and one daughter-in-law, Kay Loveall.
In lieu of flowers, memorial contributions are suggested to the Cumberland Presbyterian Church in Warrensburg and can be left in care of the funeral home.