Dorothy E. Stockton Sims
Dorothy E. Stockton Sims, 94, of Warrensburg, died Wednesday, March 6 at the Warrensburg Manor Care Center.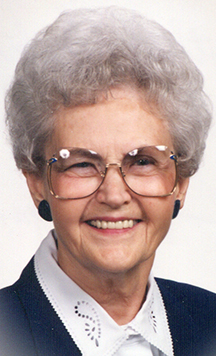 Funeral services will take place at 11 a.m. Saturday, March 9 at the First Baptist Church of Warrensburg with Reverend Francis O'Donnell and Pastor Dennis Doyle officiating. Pallbearers will be Dorothy's grandchildren.
Interment will follow at Liberty Cemetery.
The family will receive friends from 6 to 8 p.m. Friday, March 8 at Sweeney-Phillips & Holdren Funeral Home in Warrensburg.
She was born April 19, 1918, in Warrensburg, MO, the daughter of Forest A. and Jesse B. (Martin) English.
She was united in marriage June 2, 1940, to Robert R. Stockton in Fayetteville, Mo. He preceded her in death Feb. 9, 1984. On May 3, 1986, she was united in marriage to Lee Thomas Sims in Warrensburg. He also preceded her in death on Oct. 21, 1998.
Dorothy graduated from Farmer's High School in 1935. She then attended Central Missouri State Teacher's College and received her 60 hour certificate. At 19 Dorothy began her teaching career in Centerview, Mo. for $70 a month. She felt very fortunate to have a teaching position. Dorothy later earned a bachelor's degree in 1950 and a master's degree in 1958, both in Education, through many hours of summer school at CMSC.
Dorothy later taught first grade at Eminence Elementary, Versailles Elementary, Farmers Elementary, and then taught second grade elementary in Warrensburg for the next 17 years. In 1972 Dorothy became the principal of Ridgeview Elementary in Warrensburg and served her last 11 years of her teaching career in this position.
Community service was a long part of Dorothy's life. She was actively involved with First Baptist Church of Warrensburg, and was a former director of the Senior Adult Sunday School Department for over 20 years, which included weekly visits to shut-ins and teaching a Bible study in three area nursing homes.
Music was an important part of Dorothy's life. She enjoyed singing in choirs for over 70 years, and was a member of the Senior Adult Choir which presented a monthly program at three nursing homes.
Dorothy served the residents of the Warrensburg community in numerous ways and in 1997 was named "Volunteer of the Year" by the Chamber of Commerce. She had leadership positions on the Warrensburg Christian Concerns Committee, the Christmas Store, Meals-On-Wheels, the Food Center, and the Arts, Books, and Crafts Club. She also served on the Board of Directors for the community group home for handicapped adults.
Summing up her career in education, Dorothy said, "For as long as I can remember, I have wanted to be a teacher. I enjoyed my career immensely. I felt fortunate to have taught so long and to have been a part of the greatest profession in the world."
Dorothy is survived by two daughters: Judy Yancey and husband Charles, of Holden, Mo.; Jackie Harmon and husband Lynn, of Warrensburg; son, Mark Stockton and wife Susan, of Warrensburg; one brother, Robert English, of Warrensburg; seven grandchildren, Jacob and Jarod Stockton, Monte Harmon, Craig Yancey, Shanna O'Donnell, Meridith Sauer, and Kim Yancey; and 14 great-grandchildren.
She was preceded in death by her parents; two sisters, Nadine Minor and Florence Twohey; and three infant siblings.
Memorial contributions are suggested to the First Baptist Church Building Fund or the Dorothy Stockton Sims Scholarship Fund at UCM and both can be left in care of the funeral home.