Laura Louise Kendrick
Laura Louise Kendrick, 76, of Warrensburg, died Tuesday, Jan. 22 at Research Hospital in Kansas City.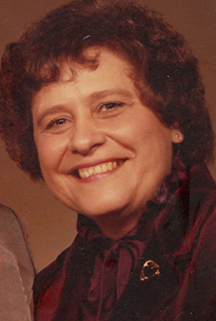 A funeral will be held at 10:30 a.m. Friday, Jan. 25 at the First Christian Church in Warrensburg with Pastor Jerry Basye officiating. Pallbearers will be Brian Akers, Andrew Kendrick, Matt Kendrick, Bret Thogmartin, Ralph Johnson and Ron Black.  Honorary pallbearers will be members of the Pickin' Friends: Bud and Ella Mae Matthews, Calvin Southard, Hal Sappington, Marion Cox, and Herb Best.
Interment will follow at Warrensburg Memorial Gardens.
The family will receive friends from 6-8 p.m. Thursday, Jan. 24 at Sweeney-Phillips & Holdren Funeral Home in Warrensburg.
She was born March 21, 1936, in Adrian, Mo., the daughter of Frank and Florence (Deardorff) Nichol.
She was united in marriage on March 23, 1953 to Don Kendrick in Butler, Mo.
Louise was a 1954 graduate of Adrian High School. She worked as an accountant for a clothing store for several years until she retired. Louise was a member of the First Christian Church, where she volunteered with the Christian Women's Group. She also traveled and sang with her husband's group "Pickin' Friends," playing country and blue grass music at churches, veterans and nursing homes. Her biggest passion in life was spending quality time with her grandchildren and great-grandchildren.
Louise is survived by her husband, Don; one son, Ron Kendrick and wife, Brenda, of Osage Beach, Mo.; one daughter, Pam Black and husband, Bill, of St. Joseph, Mo.; one brother, Johnny Nichol; one sister, Lucille Woodson; five sisters-in-law and two brothers-in-law whom she loved like family, Donna Nichol, Barb Hilbus, Thelma Silvers, Wilma Nager, Esther Brown, and Jim and Kenneth Kendrick; five grandchildren, Kari Johnson, Nicole Thogmartin, Brian Akers, Andrew Kendrick and Matt Kendrick; seven step-grandchildren; and eight great-grandchildren.
She was preceded in death by her parents; one brother, Robert Nichol; one great-grandson, Tate Thogmartin; and one great-granddaughter, Natalie Kendrick.
Memorial contributions are suggested to the First Christian Church and can be left at the funeral home.