Ferne Evella Thomas Graves
Written by Muleskinner Staff
January 15, 2013
Ferne Evella Thomas Graves, 91, died Friday, Jan. 11 at Western Missouri Medical Center.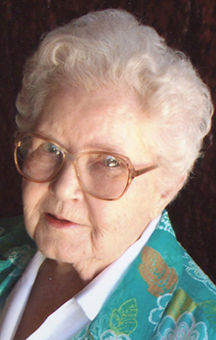 A funeral will be held at 10 a.m. Wednesday, Jan. 16 at Sweeney-Phillips & Holdren Funeral Home in Warrensburg with the Rev. Louie Lowe officiating.
Interment with graveside services will be held at 1 p.m. Thursday, Jan. 17 at Newkirk Cemetery in Newkirk, Okla., with the Rev. Jim Hollifield officiating.
She was born June 14, 1921, in Tonkawa, Okla., the daughter of Floyd E. and Catherine L. (Simmons) Thomas.
She was united in marriage on July 24, 1948 to Irwin L. Graves at the Epworth Methodist Church in Oklahoma City, Okla. She moved with him to Air Force bases in the U.S. and England. He preceded her in death on Feb. 6, 2004.
Mrs. Graves graduated from University Preparatory School and Junior College in Tonkawa, Okla. She earned a Bachelor of Business Administration at the University of Pittsburg, Pa., and also did graduate study at Alaska Methodist University in Anchorage, Alaska. Mrs. Graves was a longtime federal employee, retiring in 1975 as administrative officer, U.S. Geological Survey, WRD, in Salt Lake City, Utah. Ferne and Irwin moved to Warrensburg in 1976 and she worked as an antiques dealer. Mrs. Graves was a member of the First United Methodist Church in Warrensburg, and Chapter HW, P.E.O. Sisterhood.
She is survived by many beloved nieces and nephews. Mrs. Graves was also preceded in death by her parents and one brother, William Wayne Thomas.
Memorial contributions are suggested to the First United Methodist Church of Warrensburg and can be left in care of the funeral home.