Lola Jean Davidson
Lola Jean Davidson, 78, of Knob Noster, died Thursday, Jan. 10 at her home.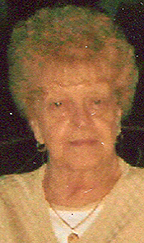 A funeral will be held graveside at 3 p.m. Saturday, Jan. 12 at Knob Noster Cemetery. Pallbearers will be Andy Rash, Tyson Wood, Kory Frieden, Tony Everts, Jacob Everts and Keith Buzzanga.
The family will receive friends from 1-2:30 p.m. Saturday at Sweeney-Phillips & Holdren Funeral Home in Warrensburg.
She was born Sept. 30, 1934, in Westby, Wis., the daughter of Melvin and Helen (Gray) Parrish.
She was united in marriage to Paul E. Davidson on Jan. 8, 1952. He preceded her in death on July 20, 1994.
Lola was the manager of Whiteman Air Force Base Bowling Center Food Service, retiring after 30 years.  She was a member of the VFW Ladies Auxiliary in Knob Noster and was a Lutheran by faith. Lola loved spending time with her children and grandchildren.
She is survived by one son, Steven Davidson, of Cole Camp; three daughters, Sandra Aragon and husband, Louie, of Kansas City, Mo.; Pamela Everts and husband, Danny, of Knob Noster; and Paulene Flynn and husband, James, of Topeka, Kan.; one brother, Melvin Parrish Jr. and wife, Jarda, of La Crosse, Wis.; four sisters, Melva Yttri and husband, Duane, of Milton, Wis.; Barbara Davidson, of La Crosse, Wis.; Carol Isbell and husband, Donald, of Janesville, Wis.; and Joy Hart and husband, Stub, of Tomah, Wis.; nine grandchildren, Wayne Aragon, Keith Buzzanga, Kelly Frieden, Danielle Rash, Tony Everts, Jennifer Aragon, Jacob Everts, Tyson Wood and Cheryl Aragon; 12 great-grandchildren, Macy, Olyvia and Jenna Buzzanga; Karlie, Kemper and Kacie Jo Frieden; Madison Everts; Maya Wood, Ashlynn Peoples, Izabella Aragon-Jones; Kaleigh and Tayven Rash.
Lola was also preceded in death by her parents and two sisters, DonnaLou Jamboise and Ella Huntington.
Memorial contributions are suggested to the Knob Noster VFW Post 4195 and can be left in care of the funeral home.