Eddie Martin Ludlam, 77, of Warrensburg, died Thursday, Dec. 20 at Western Missouri Medical Center.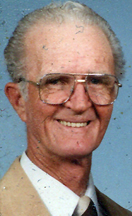 A funeral will be held at 10 a.m. Thursday, Dec. 27, 2012, at Sweeney-Phillips & Holdren Funeral Home in Warrensburg with Pastor Russell Shoemaker officiating. Pallbearers will be Robert Winston, Mitch Rice, Doug Rice, Steve Rice, Chris Pierce and Bob Morcha.
Interment will follow at the Higginsville City Cemetery with full military honors provided.
The family will receive friends from 6-8 p.m. Wednesday, Dec. 26, 2012, at the funeral home.
He was born June 19, 1935, in Warrensburg, the son of Cleo and Lucille (Roach) Ludlam.
He was united in marriage on Dec. 31, 1955 to Beatris Rice in her mother's home.
Eddie was a 1953 graduate of Warrensburg High School and then served in the U.S. Army. Eddie worked at Western Electric and AT&T in Lee's Summit for 30 years, assembling and processing phone parts. He was a member of the Cedar Grove Christian Church. Eddie was a member of the Stars, joining in 1966. Throughout the years, he achieved several ranks, including master Mason on March 30, 1970; a "W" master from 1973-1974; a Royal Arch Mason on Nov. 22, 1974; a royal and select master, as well as a Knight Templar on April 25, 1987; an eminent commander in 1989; and an illustrious master in 1991. Eddie received a Silver Cross in 1992; a KYCH in 1993; and was with the Past Master Association in 2007.
Eddie is survived by his wife Beatris; two sons, Rusty Ludlam and wife, Mary, of Lake City, Fla.; and Lenord Ludlam and wife, Kathy, of Warrensburg; one brother, Danny Ludlam and wife, Ann, of Warrensburg; one sister, Joann Weloff and husband, Ron, of Harrisonville; six grandchildren: Anthony Ludlam, Brian Ludlam, Nicole Ludlam, Jacob Ludlam, Nina Snipes and Danae McKim; and six great-grandchildren.
He was preceded in death by his parents.
Memorial contributions are suggested to the Show-Me Christian Youth Home in La Monte, Mo., and can be left in care of the funeral home.
Story continues below advertisement