Dr. Lin Welch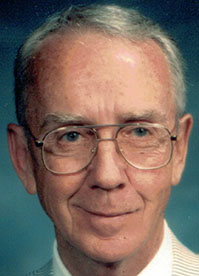 Dr. Lin Welch died Friday, Sept. 1, at the Missouri Veterans Home of Warrensburg, Missouri.
Cremation has taken place under the care of Sweeney-Phillips and Holdren Funeral home, and a
celebration of life will be held on Saturday, Sept. 30, at 10 a.m. at the First Christian Church
of Warrensburg, with Pastor Jerry Bayse officiating. In lieu of flowers, memorial
contributions are suggested to the Lin Welch Graduate Scholarship Fund, Central Missouri University, or the First Christian Building Fund and can be left in care of the funeral home.
Son of Mittie Ferfuson and James A. Welch, Lin, the youngest of five children, was born on Dec. 9, 1927, near Tahoka, Texas, a dot on the map of the Texas Panhandle. From a windswept farm, he became a beloved college professor who helped to shape the new profession of speech pathology and audiology.  After graduating from high school in Shamrock, Texas, he received advanced degrees from West Texas State University, Baylor University, and the University of Missouri-Columbia.
Coming with his young family from Columbia in 1956, he spent 40 years at Central Missouri University, then a teacher's college, helping to train hundreds of speech pathologists and audiologists now serving in the nation's public schools and health facilities.  As enrollments continued to grow, Central created the new Department of Speech Pathology and Audiology in 1969 and appointed him chairman.  He served in that capacity until 1993, when he relinquished his administrative duties to return to full-time teaching.  During his tenure, he obtained more than $1,500,000 in federal grants to facilitate the growth of the new department.  It was used for purchasing equipment, funding graduate assistantships, and for faculty professional development.  With his staff, he designed the facilities for a new clinic in 1970, which was recognized as one of the most advanced in the nation.  In 1996, the clinic was named the Welch-Schmidt Communications Disorders Clinic in recognition of his service and that of his long-time colleague, Dr. Marilynn Schmidt.
An early member of the new American Speech-Language-Hearing Association (ASHA), he helped develop standards for the emerging profession. He served for three years on the ASHA Accreditation Board and over 25 years as a member of accreditation site teams, evaluating programs throughout the United States, seeking ASHA accreditation.  He also chaired the Continuing Education Committee and was a member of the Alliance for Research and Education Committee.
One of the founders of the Missouri Speech and Hearing Association, he also served as president and treasurer. For several years he was a member of the advisory board to the Missouri Department of Secondary and Elementary Education and on the Missouri Licensure Commission for Speech Pathologists and Audiologists.  His awards and honors include ASHA Fellow, Honors of the Missouri Speech and Hearing Association, the Byler Distinguished Faculty Award, and the College of Arts and Science Distinguished Faculty Award.
While Lin was busy professionally, he did not neglect other aspects of his life.  For over 30 years, he was a member of the First Christina Church Warrensburg, serving as elder, deacon, and chairman of the board, and in other capacities when needed.  Prior to that, he taught the Young Men's Bible class at the First Baptist Church of Warrensburg for 12 years.
Lin will be remembered by his children as a happy, proud, fun-loving, playful, always singing father.  He married Jeanette Bodkin, secretary to the president of Union University in Jackson, Tennessee, on Nov. 12, 1950, after arriving on campus just two months earlier as the new speech professor.  The U.S. Army cut short his new career on Nov. 16, when he was drafted for the Korean War, but not his new marriage which lasted 67 years.  Three children were born to their marriage; Deborah Larsen, Ph. D, of Los Angeles, California; Richard Welch, LCSW of Warrensburg, and Nancy Miller, Ph. D of Kansas City, Missouri.  In addition to his wife and children, he leaves a son-in-law, David Larson of Los Angeles, a grandson, Ethan Larson, of Urbana, Illinois, and a sister, Rose Hefley of Tulsa, Oklahoma, as well as several nieces and nephews.