Noreen Williamson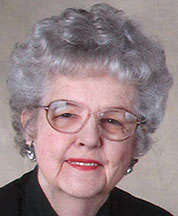 Noreen Rosalie Williamson, 92, of Warrensburg, Missouri, died Monday, Aug. 14, at Western Missouri Medical Center.
Funeral Services will be held at 2 p.m. Saturday, Aug. 19, at Sweeney-Phillips & Holdren Funeral Home with Rev. Louie Lowe officiating. Interment will follow at Warrensburg Memorial Gardens Cemetery.  Pallbearers will be John Prizler, Devon Williamson, Brian Jenkins, Brandon Roots, Matt Ahl, Max Alber and Bruce Ramage. The family will receive friends from 1 p.m.  until service time Saturday at the funeral home.
She was born July 3, 1925, the daughter of William and Nora Delevante Bamford in Perth, Western Australia.
Noreen spent her younger years in Perth. She was a cosmetologist by trade before and during World War II. She traveled and sang with the Shell Oil Company Troope performing for the Allied servicemen in Australia. One of Noreen's regular hair customers introduced her to Dean, who was serving in the Navy and was stationed in Perth at the time. They were married on March 22, 1947, in Perth.
Dean and Noreen returned to America and settled in Little River, Kansas, while Dean worked with his dad at Williamson Furniture, Noreen raised her four children at home. In 1964, Dean and Noreen moved to Warrensburg where they purchased the Hursh Furniture Company, renaming it Dean Williamson Furniture, which is still operated today by their oldest son, Dennis Williamson.
Noreen was a member of the United Methodist Women. She loved to dance, play bridge and pitch. She sang with the traveling Baptist Choir and the Community Choir.
Noreen is survived by her children, Dennis (Naomi) Williamson of Warrensburg; Marsha Williamson of Fort Mill, South Carolina; Clark Williamson of Abilene, Kansas; and Rosalind (John) Prizler of Santa Barbara, California; a sister, Peggy (Ron) Bell; a brother, Victor Bamford, both of Perth. Her grandchildren, Devon (Barbara) Williamson of Raymore, Missouri; Dené Williamson of Tampa, Florida; Brian Jenkins of Charlotte, North Carolina; Michelle (Stephen) Mosko of Fort Mill, South Carolina; and Brandon (Matt Ahl) Roots of Brooklyn, New York; and her great-grandchildren, Alexander Williamson, Nicholas Williamson, Dylan Jenkins, and Anna Grace Mosko.
She was preceded in death by her parents; her husband, Wilbur Dean Williamson; a brother, Robert Bamford; and a sister, Nina Williams.
Memorial contributions are suggested to First United Methodist Church and can be left in care of the funeral home.