Danny Lee Everts, 58, of Knob Noster, Missouri, died Wednesday, July 26, at Golden Valley Memorial Hospital in Clinton, Missouri.
Funeral services will be held at 10 a.m. Saturday, July 29, at the Knob Noster Middle School with Brother Charles Brant officiating. Interment will follow in Knob Noster Cemetery. Pallbearers will be Asa Bowling, Clint Corbett, Keith Buzzanga, Michael Cote, Clifford Everts, and Tyson Wood. Honorary pallbearers will be Phillip Brant, Richard Brant, Scott Cockrum, Randy Rittman, Keith Thompson and Terry Thompson.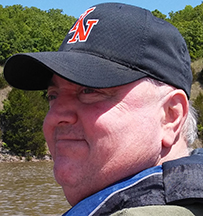 Danny was born on Feb. 7, 1959, the son of Clifford Dale and Willa Dean Herrmann Everts in Warrensburg, Missouri.
On May 21, 1977, he and Pamela Davidson were united in marriage in Knob Noster.
Danny spent 40 years with his wife, Pam, and the time spent with his children and grandchildren was the best of times. He was a man of many words, songs, and hobbies. Nothing beat a good day of fishing or the memories of decades of making music with his friends.
Danny is survived by his wife, Pamela, of the home; two sons, Jacob Everts of Knob Noster and Tony Everts of Leeton, Missouri; a daughter, Kelly Frieden and husband, Kory, of Knob Noster; four grandchildren, Karlie, Kemper and Kacie Jo Frieden, and Madison Everts; his mother, Willa Dean Everts, of Knob Noster; two sisters, Joyce Cote and Nancy McKeehan and husband, Jim, of Knob Noster; two brothers, Alan Everts and wife, Jill, and Billy Everts and wife, Beth, all of Knob Noster; and numerous nieces and nephews.
In lieu of flowers, memorial contributions are suggested to the First Christian Church of Knob Noster and can be left in care of Sweeney-Phillips & Holdren Funeral Home.
Story continues below advertisement