George Lewis Hechler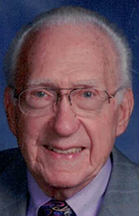 George Lewis Hechler, 88, of Warrensburg, Missouri, died Tuesday, July 4, at his home.
A memorial service will be held at noon on Saturday, July 15, at 1st United Methodist Church of Warrensburg with the Rev. Louie Lowe officiating. The family will receive friends from 11 a.m. until service time at the church.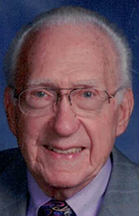 He was born Feb. 22, 1929, in Troy, Missouri.  The son of Ernest J. Hechler and Ethel L. Schaper Hechler.
After growing up with his parents and four siblings, George married his high school sweetheart Melva on Aug. 20, 1950. They both enjoyed 61 years of marriage up until her death in 2011.
After his graduation from Palmer Chiropractic College in 1953, he spent two years in the military. After his honorable discharge from the Army, they moved to Brookfield, Missouri, where he set up his private practice in chiropractic.  Melva joined him as an office manager until he retired and sold his practice in 2000. They then moved to Warrensburg to be closer to their sons and grandchildren.  
George continued to practice his chiropractic skills part time out of his home. He displayed a true love of serving his patients and was not only their caregiver, but a personal friend to many. He would take care of anyone day or night and on weekends and holidays. He was as passionate about his profession as he was about spending time with his family. George loved his pets like they were children. Anyone who saw him would also likely see him carrying his dog, Angel, as he ran his errands.
George is survived by two sons, Steven Hechler and wife, Leigh Ann, of Leawood, Kansas; and Mark Hechler and companion, Tandi Toone. He is also survived by five grandchildren, Benjamin Hechler and fiancé, Courtney Cooper, of Durham, North Carolina; Paul Hechler and fiancé, Elizabeth Wilkinson, of North Liberty, Iowa; Danielle Hechler, Christina Hechler, and Matthew Hechler all of Warrensburg.
George was preceded in death by his parents, two brothers, Elwyn and Robert Hechler, and two sisters Mabel and Lucille Hechler.
In lieu of flowers, memorial contributions are suggested to United Methodist Church and can be left in care of the funeral home.
The family wishes to thank the many friends and caregivers who spent countless hours attending to him in his final weeks here on earth.