James Brockman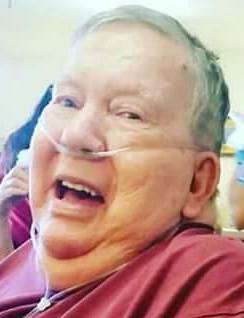 James L. Brockman, 81, of Warrensburg, died Saturday, April 22, at Ridge Crest Nursing Home.


Memorial services will be held at 3 p.m. on Thursday, April 27, at Sweeney-Phillips & Holdren Funeral Home. The family will receive friends from 2 p.m. until service time at the funeral home.
James was born Oct. 15, 1935, in Warrensburg, the son of Robert and Marie (Bethel) Brockman.
On Aug. 20, 1954, he and Ruth Arndt were united in marriage in Warrensburg.
He served as a sergeant in the US Army and later in the National Guard. He was a plant manager for Unitog for several years, a traveling salesman for a gas equipment company, and upon retiring worked at the Warrensburg Country Club.
He was an avid golfer and fisherman and loved taking care of his yard.
James is survived by his wife, Ruth, of Warrensburg; two daughters, Jennifer DeBacker and Gwen Fox, of Warrensburg; a son, Jim Brockman and wife, Erin, of Liberty, Missouri; a brother, Jerry Brockman and wife, Doyne, of Branson, Missouri; six grandchildren, Nikki Moore, Nathan Griffis, Jessica Blevens and husband, John, Jamie DeBacker, and Bridger and Bellamy Brockman; and four great-grandchildren, Nicholas and Kevin Moore, and Hanna and Lukas Blevens.
He was preceded in death by his parents, a brother, two sisters, and a son in infancy, James Derrick Brockman.
Memorial contributions are suggested to the James L. Brockman Memorial Fund with checks made payable to Jennifer DeBacker and can be left in care of the funeral home.