Lucille Clifton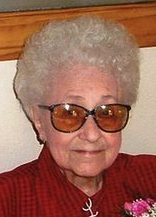 Lucille Marie Clifton, 100, of Warrensburg, Missouri, died Friday, March 10, at the Warrensburg Manor.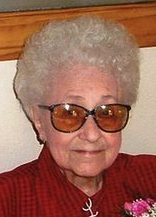 Funeral services will be 1 p.m. Thursday, March 16 at the Columbus Christian Church with The Rev. Robert Atkinson, The Rev. Elmer Brunton and Gregory Atkinson officiating. Burial will follow in the Columbus Christian Church Cemetery. Pallbearers will be Gregory Atkinson, Clifton Jon Gower, Simon Gower, Seth Atkinson, Josh Atkinson and Galen Harmon .
The family will receive friends from 6-8 p.m. Wednesday at Williams Funeral chapel in Warrensburg.
She was born Sept. 11, 1916 in Johnson County, Missouri, the daughter of Joseph F. and Goldie (Underwood) McNeece. She attended the Highland Grade School. She and Milton Hughes Clifton were married Nov. 9, 1934 and lived their entire lives in the Columbus community before moving to Warrensburg in 1999, upon retirement from farming. They were married 71 years. Milton preceded her in death Nov. 15, 2005.
Lucille attended the Columbus Christian Church as a child. She was a member of the Countryside Church of the Nazarene. She was a faithful Sunday School teacher, also helping with Bible School and wherever she could be of service. She was a devoted and loving wife, mother, grandmother and great-grandmother. Knitting, sewing, reading, cooking and baking were things Lucille loved to do and always shared the results of her efforts. She and Milton welcomed everyone into their home. They enjoyed going on trips together as well as with their children.
She was also preceded in death by her parents and brothers, Forestand John R. McNeece; brother-in-law, Rolla Marr; sister-in-law, Irene McNeece; nephew, Warren McNeece and one great-grandson, Nathan Franco.
She is survived by four daughters, Norma Jo Atkinson and husband, Robert of Blue Springs, Missouri; Elnora Marie Wagoner and husband, Richard, of Holden, Missouri; Melissa Jon Gower and husband, Phillip, of Warrensburg; Laura Dee Busby and husband , Jim, of Overland Park, Kansas; seven grandchildren, Gregory (Shelley) Atkinson, Lana Jo (Dan) Franco, Mary Ella (Jay) Stukenholtz, Jan Marie (Philip) Combs, Clifton Jon (Andrea) Gower, Simon P. (Dianne) Gower, Zain E. Gower; nine great grandchildren; a sister, Jo Anna Marr, of Blue Springs, and sister-in- law, June McNeece, of Butler; nephew, Bob McNeece, and nieces, Leslie Arbuckle, Meredith Thompson and Marsha Cook.
In lieu of flowers, memorial contributions are suggested to theColumbus Christian Church Cemetery or Crossroads Hospice.