Peggy Ann Larkin
Peggy Ann Larkin, 79, of Centerview, Missouri, died Tuesday, Dec. 13, at Harmony Gardens Assisted Living Center in Warrensburg.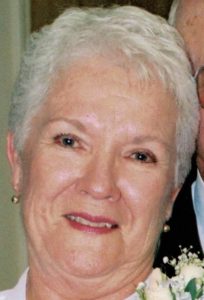 Funeral services will be 10:30 a.m. Saturday, Dec. 17, at Sweeney-Phillips & Holdren Funeral Home with the Rev. Bill Runyon officiating. Interment will follow in Warrensburg Memorial Gardens Cemetery. Pallbearers will be Curtis, Todd, and Gibson Larkin, Frank Aluppa, Paul Willard, and Doug Brookshire. The family will receive friends from 9 a.m. until service time Saturday at the funeral home.
She was born in Richmond, Missouri, on Feb. 13, 1937, the daughter of Loren and Sophia (Payne) Casteel.
She and Edward D. Larkin were married on Aug. 6, 1955, in Lee's Summit, Missouri. He preceded her in death on June 15, 2013.
Peggy was a graduate of Lee's Summit High School in 1955, and she was formerly a cook for the Centerview School District. She loved making birthday and wedding cakes. She also did a lot of baby-sitting. She was a member of the Church of Hope in Centerview where she was a Sunday school and Bible school teacher. She loved to bowl and make crafts.
She is survived by four sons, Mike Larkin, of Centerview; Dwayne Larkin and wife, Dianne; Doug Larkin and wife, Vicky; and Jon Larkin, all of Warrensburg; a sister, Betty Reed, of Phoenix, Arizona; eight grandchildren, Nick Hinerman, Ashley Loewen, Heather Aiuppa, Curtis, Todd and Gibson Larkin; and Justin and Katie Eggen; and eight great-grandchildren.
She was preceded in death by her parents and her husband.
In lieu of flowers, memorial contributions are suggested to the Church of Hope and can be left in care of the funeral home.