Breonia Angelese Shields ,22, of Knob Noster, died Saturday, Sept. 24, north of Knob Noster from an automobile accident.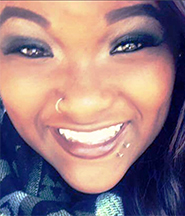 Funeral services will be held Wednesday, Sept. 28, at 11 a.m. at the Charity Christian Survival Center in Knob Noster, under the direction of Sweeney-Phillips & Holdren Funeral Home. Interment will follow in Knob Noster Cemetery. The family will receive friends from 9 a.m., until service time at the church.
Breonia was born on March 9, 1994 along with her twin brother, Alyxandr Thomas to the parents of Danielle Powell and Allen Thomas, Jr. at Bothwell Regional Health Center in Sedalia, Missouri.
Breonia attended and graduated from Knob Noster Senior High. While there she sung in Honor Choir, Show Chior and was known for singing the National Anthem at multiple school events. From her youth, Breonia was loved by everyone she met and grew popular as she became older.
Breonia was known for her creativity, warm heart, her smile and her amazing singing voice singing on the praise & worship team at Charity Christian Revial Center.
Breonia Angeles Shields is survived by her mother Danielle Powell, her step-father Theodore Powell, Jr., her twin brother, Alyxandr Thomas, brothers, Allen-Jarvee Thomas, Isaac Powell, and Allen Jamal Thomas, and sisters, Amesha Logan, Nikole Thomas, and Tonya Harris, maternal grandparents, Willie and Inell Shields, and paternal grandparents, Alan and Beatrice Thomas.
She was preceded in death by her father, Allen Thomas, Jr.
Memorial contributions are suggested given at www.gofundme.com/breoniaangelese.

Story continues below advertisement