Shirley (Jenks) Bates died Sept. 9, after a short illness.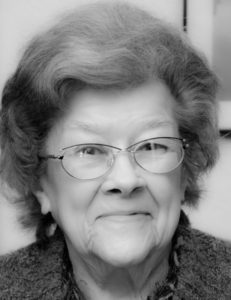 A tribute to Shirley's life will be held on Tuesday, Sept. 20, at Sweeney-Phillips and Holdren Funeral Home. The family welcomes friends to visitation beginning at 2 p.m. followed by a short memorial service at 3 p.m. A private inurnment will be held later.
Shirley was born at the family farm in Lamont, Iowa on March 16, 1926. She was preceded in death by her parents Earl Knight Jenks and Edith (Potter) Jenks; husband Willie Lee Bates; brother, Irwin Jenks; and sister, June Wilson.
She is survived by daughters, Debbie Wilson (Stephen), Cindy Gabbert (Elvin), and son, Tom Bates (Connie). Shirley is also survived by grandsons, Joseph Alfino (Brook) and David Gabbert (Anna); two great grandsons, Felix and Henry Alfino; and two step-granddaughters, Beth Foote and Kendall Wilson.
Story continues below advertisement
She was preceded in death by her parents, a brother, Irwin Jenks, and a sister, June Wilson.
Shirley graduated from Lamont High School in 1943, and in January 1944 at the age of 17, she enlisted in nurses' training with the Army Nurse Cadet Program at Saint Luke's Hospital in Cedar Rapids, Iowa. She graduated as a registered nurse shortly after the end of World War II. She married Willie Lee Bates in 1948 and began a long, active career as a nurse, serving in numerous hospitals as she traveled with her husband throughout his Air Force career. After the family settled in Warrensburg in 1964, Shirley joined the staff of what is now Western Missouri Medical Center and retired from WMMC after thirty years of dedicated service.
Following her retirement, Shirley was active in the local community as a member of Western Missouri Medical Center Auxiliary, Friends of Trails Regional Library, Warrensburg chapters of Daughters of the American Revolution and AARP. Her many interests included crossword puzzles and reading. She often had four or five books and several crossword puzzles going at the same time next to her reading chair. She was also a member of several bridge groups.
Shirley was devoted to her family and was much loved by her children, grandchildren, great-grandchildren, and her many friends.
In lieu of flowers, memorial donations may be made to Trails Regional Library (Warrensburg Branch), or Western Missouri Medical Center Auxiliary, and can be left in care of the funeral home.