Emerson G. Smith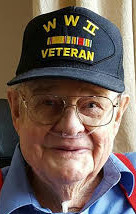 Emerson G. Smith, 94, of Warrensburg, Missouri, died Monday, July 18, at the Missouri Veterans Home in Warrensburg.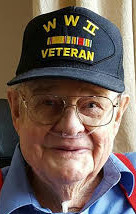 Memorial services are scheduled for 10:30 a.m. Saturday, July 23, at the Missouri Veterans Home in Warrensburg with military honors and with Brother Sam Anderson officiating.
Emerson was born Oct. 16, 1921, in Rockville, Missouri, the son of Ross Clark and Grace (Nolte) Smith.
Emerson attended Osage School, a one-room country school in St. Claire County. He was a 1939 graduate of Rockville High School. He attended the University of Missouri in Columbia, majoring in agriculture. He met Kathryn when she came to attend summer classes. Five months later, he proposed to her. He earned his master's degree in biology at Drake University in Des Moines, Iowa, in 1964 by attending four summer sessions.
At MU, ROTC was required for all male students during their first two years. The second two years were optional, which Emerson chose to take. After his third year (and Pearl Harbor) in order to remain in the program he was required to go to summer school (1942). After the first semester of his senior year (February 1943), he was sent to Ft. Sill, Oklahoma, for OCS (Officer Candidate School).
His Army career led him to Fort Chaffee in Ft. Smith, Arkansas, where as second lieutenant he trained artillery troops. In February 1945, he shipped out to LaHavre, France, with the third group of trainees. He then traveled through France, Germany and Czechoslovakia. He was in the first group of American soldiers who liberated Pilson, Czechoslovakia, after having been under German control since the 1930s.
During the Army of Occupation, in May 1946, the 16th Division was deactivated and Emerson was sent to the 79th Infantry Division. Those who had served the longest were sent home and he became part of the Big Red 1 (First Infantry Division).
His troops were waiting for a ship to take them to Japan to help end the war there. After about two weeks of waiting, the two bombs were dropped in Japan on Hiroshima and Nagasaki and he was sent home.
After the war, Emerson and Kathryn moved to Warrensburg where he taught "Instructional On the Farm Training" to WWII farm veterans at Central Missouri State College. When that program ended, he taught science and agriculture and coached basketball at Latour High School from 1957-1958. From 1958-1981 he taught chemistry and biology at Warrensburg High School.
During his teaching career, he also farmed. Throughout 67 years on the farm, he raised registered breeds of sheep and hogs, quarter and paint horses, cattle and German shepherd dogs.
Over the years, Emerson was a deacon and elder at the First Presbyterian Church. He was president of the Warrensburg Saddle and Bridle Club for several years, Holiday Ramblers and Good Sam RV Club. He was a 4-H leader and little league baseball coach. He held a lifetime membership with the Quarter and Paint Horse Association.
Emerson is survived by a son, Galen Smith, and wife, Eve, of Centerview; two daughters, Kristen Hudson, of Springfield; and Karen Slater and husband, Dennis, of Phoenix, Arizona; and nine grandchildren and sixteen great-grandchildren.
He was preceded in death by his parents, his wife, Kathryn Smith, on Dec. 1, 2014, a son-in- law, Terry Hudson, two brothers, Byron Delmar Smith and Clifford Ross Smith, and a sister, Almo Lenore Lovell.
In lieu of flowers, memorial contributions are suggested to the Missouri Veterans Home or the Warrensburg Senior Center and can be left in care of Sweeney-Phillips & Holdren Funeral Home.