Bill D. Bird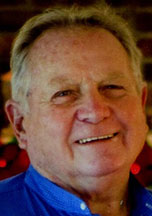 Bill D. Bird, 79, of Centerview, Missouri, died Sunday, Oct. 18, at his home.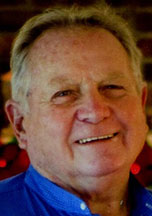 Funeral services will be held at 10 a.m. Friday, Oct. 23, at Sweeney-Phillips & Holdren Funeral Home in Warrensburg with the Rev. Bill Runyon officiating.
Cremation will immediately follow the services.
The family will receive friends from 6 to 8 p.m. Thursday, Oct. 22, at the funeral home.
He was born Sept. 28, 1936, in Leeton, Missouri, the son of George Thomas and Florence (Laws) Bird.
He was united in marriage to Shirley Allison on Nov. 1, 1959, in Warrensburg, Missouri.
Bill graduated from Warrensburg High School, class of 1955. He served in the U.S. National Guard and later served in the U.S. Army. Bill worked as a mechanic for TWA in Kansas City, Missouri, and retired after 35 years. He loved spending time at the Lake of the Ozarks, Truman Dam and Pomme De Terre Lake where he enjoyed boating and water skiing. Bill and his family moved to Centerview in 1994 and enjoyed working with his cattle. He was a life member of the Warrensburg Elks Lodge No. 673 and a member of the Mechanics Union.
Bill is survived by his wife, Shirley, of the home; one son, Dennis Bird, and wife, Julie, of Kansas City, Missouri; one sister, Alma Adams, of Warrensburg; one brother, Wayne Bird, and wife, Irene, of Santa Barbara, California; one granddaughter, Jessica Bird, of Kansas City, Missouri; and several nieces and nephews.
He was preceded in death by his parents; three brothers, Alvin, Glen and Bob Bird; and one sister, Thelma Hare.

In lieu of flowers, memorial contributions are suggested to the Leukemia and Lymphoma Society and can be left in care of the funeral home.