Evelyn Elizabeth Bodenhamer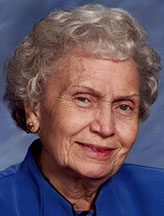 Evelyn Elizabeth Bodenhamer, 90, of Warrensburg, Missouri, died Monday, Oct. 12, at Warrensburg Manor Care Center.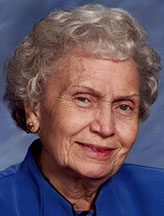 Funeral services will be held at 2 p.m. Friday, Oct. 16, at Sweeney-Phillips and Holdren Funeral Home in Warrensburg with Pastor Dennis Doyle officiating and visitation services beginning at 1 p.m. Pallbearers will be Marcus Dunham, Bryan Dunham, Chris Bodenhamer, Joe Bodenhamer, Josh Bodenhamer and John Bodenhamer. Honorary pallbearers will be Emily Slater, Elizabeth Dierking, Ashley Bodenhamer and Allison Wagoner.
Interment will follow at Sunset Hill Cemetery.
She was born Dec. 9, 1924, in Columbus, Missouri, the daughter of James Walter and Hattie Elizabeth (Black) Wilson.
She was united in marriage to Staff Sgt. Lee Bodenhamer Jr. on Feb. 17, 1945, at the First Baptist Church in Warrensburg. Being a military wife, Evelyn and Lee traveled and lived in Europe, Puerto Rico and the United States. They returned back to their hometown of Warrensburg in 1968 and were one month shy of being married 60 years. He preceded her in death on Jan. 11, 2005.
Evelyn was the great-great-granddaughter of Pleasant Rice, the first settler of Johnson County, Missouri. She was a graduate of College High School, class of 1942. Evelyn then attended and received her bachelor's degree in education at State Teacher's College in 1945. Evelyn was a member of the First Baptist Church in Warrensburg since 1938. She was a member of the Fedalis Sunday School Class and Missionary Group as well as the Golden Agers, and a member of the WMMC Auxiliary.  Evelyn was a past volunteer at the WMMC Gift Shop, Community Clothes Chest, the Food Center and the Warrensburg Senior Center Meals on Wheels. Evelyn was a wonderful wife, mother, grandmother, great-grandmother and homemaker who loved spending time with her family.
Evelyn is survived by two daughters, Carol Dunham and husband, Scott, of Warrensburg; and Janet Wagoner and husband, Bob, of Centerview, Missouri; two sons, Dennis Bodenhamer and wife, Lan, of Olathe, Kansas; and Gary Bodenhamer and wife, Debbi, of Warrensburg; 10 grandchildren, Marcus Dunham and wife, Jennifer; Bryan Dunham; Chris Bodenhamer and wife, Andrea; Joe Bodenhamer; Emily Slater and husband, Chris; Josh Bodenhamer and wife, Marie; Ashley Bodenhamer and significant other, David Mullins; Elizabeth Dierking and husband, Matt; Allison Wagoner; John Thomas Bodenhamer; and 18 great-grandchildren.
She was also preceded in death by her parents, one infant son, Robert Lee Bodenhamer, two brothers, John and James Wilson, and one sister, Ruby Buthe.

Memorial contributions are suggested to the First Baptist Church Golden Agers or the Warrensburg Senior Center Meals on Wheels and both can be left in care of the funeral home.