Loy L. Richards
Loy L. Richards, 91, of Warrensburg, Missouri, died Saturday, Aug. 1, at his home.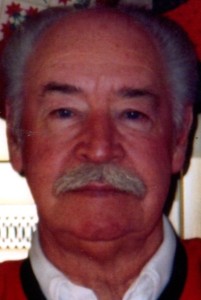 A celebration of life will be held from 9:30 to 11 a.m. Wednesday, Aug. 5, at Sweeney-Phillips & Holdren Funeral Home in Warrensburg. Inurnment will follow in the columbarium wall at the Missouri Veterans Cemetery in Higginsville with full military honors provided by the Warrensburg American Legion and VFW.
He was born Jan. 4, 1924, in Sedalia, Missouri, the son of Ollie and Iola Fischer Richards. He and Margaret Henderson were married on July 8, 1944. She preceded him in death. He and Shirley Lawson were married on Nov. 18, 1977, in Warrensburg. She survives.
Loy was a U.S. Army veteran of World War II, serving from January 1942 to March 1946. He retired from the REA Express in 1977. Loy and Shirley owned and managed many restaurants for many years in the area, and he was a former manager of the Warrensburg Country Club. He was an avid golfer, dancer, and coon hunter and loved to travel.
He was a member of the Warrensburg American Legion, former member of the Warrensburg Elks Lodge, and the Moose Lodge of Sedalia.
He is survived by his wife, Shirley; two daughters, Lana Swearngin, and husband, Don, of Green Ridge; and Jan Dieckman and husband, Darrell, of Liberty, Missouri; two stepdaughters, Teresa Arnold, of Marshall; and Brenda Blum, of Warrensburg; one stepson, Clifford Harris, and wife, Leah, of Warrensburg; two brothers, Leo Richards, of Sedalia; and Dean Richards and wife, Sharon, of Richmond, Missouri; a sister, Patty Weir, and husband, Lee, of Sedalia; 12 grandchildren and fifteen great-grandchildren. One son, Michael Richards, and one brother, Howard Richards, preceded him in death.
Memorial contributions are suggested to the Scleroderma Foundation or the American Heart Association and may be left in care of the funeral home.