Donald E. Burton
Donald E. Burton, 74, of Knob Noster, Missouri, died Thursday, July 23, at Western Missouri Medical Center in Warrensburg, Missouri.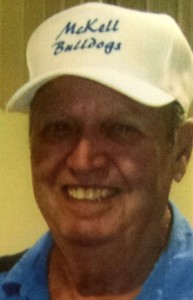 Memorial services will be held at 11 a.m. Saturday, Aug. 1, at the Knob Noster United Methodist Church with the Rev. Bryan Wendling officiating.
Immediately following services, there will be a gathering at the Oasis in Montserrat, Missouri, of good food and great friends.
He was born Feb. 1, 1941, in South Shore, Kentucky, the son of H. Wesley and Vicie (Warnock) Burton.  His girlfriend Jonalene "Johnnie" Kruse survives him, of the home.
He was united in marriage to Shirley Lewis on July 19, 1974. She preceded him in death on July 1, 2013.
Don was in the U.S. Air Force in July 1959 and retired in November 1980. His jobs were fuel supervisor, facility manager and food service supervisor. He also had his own business while in the service called J & D Painting. After retiring from the USAF, he went into civil service and he retired in 2002, basically doing his same jobs as in the USAF. Don enjoyed playing golf, hunting, playing pool and in his later years enjoyed playing shuffleboard with all of his friends from the Oasis.
In addition to his girlfriend, Johnnie, he is survived by two daughters, Deborah Hannis and husband, Charles, of Youngstown, Ohio; and Rhonda Evans and husband, Brian, of O'Fallon, Illinois; three granddaughters, Shannon DeMasi and her husband, Andy, of Vermont; Shawna Evans, of Illinois; and Lyndsey Evans, of Colorado; two great-grandsons, Noah, 3, of Vermont; and Issac, 1, of Vermont; three brothers, Roger Burton and wife, Eula, of Knob Noster; Ernie Burton, of Ohio; Mike Burton and wife, Frances, of Ohio; one sister, Jo Ann Messer, of Riverside, California; and numerous nieces, nephews and cousins.
He was also preceded in death by his parents.