Doris Elsie Blackmon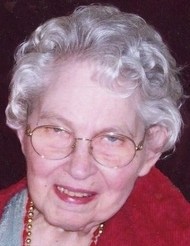 Doris Elsie Blackmon, 92, of Holden, Missouri, died Friday, July 24, at St. Luke's East Hospital in Lee's Summit, Missouri.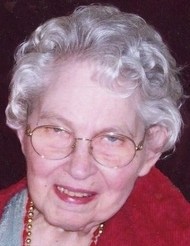 Doris was born July 23, 1923, in Jackson, Michigan, daughter of John and Eulala L. (Urton) Copeland. She graduated from high school in Jackson. Doris was united in marriage to Bert H. F. Blackmon on Oct. 5, 1946, in Jackson. Shortly after, the couple moved to Bridgend, Wales where they did missionary work. During this time their son, John, was born. They eventually returned to the United States aboard the Queen Mary, once again making their home in Jackson. During these years, their daughter, Suzan, and their son, Daniel, were born. In 1960, they moved their young family to Holden. Doris was a homemaker. She and Bert took in foster children for many years. She loved canning and baking. She was known for her Christmas cookies. In later years, Doris took up Tole Painting. Doing the Lord's work was always very important to Doris and Bert.
Survivors include her daughter, Suzan Brown and husband, Dennis, of Stover, Missouri; son, Daniel Blackmon, and wife, Janet, of Holden; two brothers, Paul Copeland, and wife, Sally, of Paris, Tennessee; and Donald Copeland, of Cheboygan, Michigan; three grandchildren, Derek Blackmon, of Pineville, North Carolina; Brent Brown and wife, Cara, of Holden; and Kent "Bud" Brown, of Dallas, Texas; six great-grandchildren; one great-great-grandchild and several nieces and nephews. She was preceded in death by her son, John, in 1970; husband, Bert, in 2007; grandson, Jason Kruid, and three sisters, Phyllis Shinaberry, Florence Langdon and Frances Matthews.
Funeral Services will be 11 a.m. Wednesday, July 29, at Williams Funeral Chapel in Holden with her grandson, Brent Brown, presiding. Interment will follow in the Holden Cemetery. Pallbearers will be Chasen Brown, Revyn Chevelle Brown, Levi Brown, Derek Blackmon, Kent Brown and Brent Brown.
The family will receive friends from 10-11 a.m. Wednesday at the funeral chapel.
Memorial contributions are suggested to Holden Cemetery Association or Holden Senior Center. Online condolences may be left at www.williamsfuneralchapel.net.