Shela Jo Snyder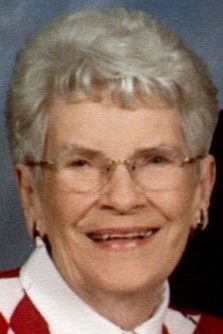 Shela Jo (Duby) Snyder, 84, died Friday, July 10, surrounded by her loving family.


Funeral services will be held at 1 p.m. Wednesday, July 15, at the First United Methodist Church in Warrensburg, Missouri, with the Rev. Louie Lowe and the Rev. Hubert Neth officiating.
Interment will follow at Warrensburg Memorial Gardens Cemetery.
The family will receive friends from 6 to 8 p.m. Tuesday, July 14, at Sweeney-Phillips & Holdren Funeral Home in Warrensburg.
Shela was born July 26, 1930, in Lefors, Texas, to Joe and Marie Duby. She was their only child, but she grew up with many first cousins and other family members. Highlights of her time in Lefors included vivid memories of the huge black sand storms of the 1930s and being a junior majorette in the Lefors High School Band. When she was 9, Shela and her parents moved to Stratford, Texas, which she considered "home."
She completed school in Stratford through the 11th grade, after which she and her mother decided it would be beneficial for her to attend a private girl's school. They chose Virginia Intermont High School and Jr. College in Bristol, Virginia. She loved the three years she spent at V.I. (12th grade through junior college) and participated in "everything." She was president of her freshman college class and was student body president the following year. Shela graduated from V.I. in 1950 and returned to Stratford to wed Marion Moss that fall. She then attended Oklahoma State University, and after receiving her Bachelor of Science and Master of Science degrees from OSU began a teaching career that spanned the next 44 years.
In 1954, her only child, Joe Steven Moss, was born. After Shela and Marion were divorced in 1962, she and Steve moved to Fayetteville, Arkansas, to be near her parents and to work on her doctorate degree in education. She taught at the University of Arkansas Laboratory School and was also the director of Fulbright Hall, the dormitory for freshman women at the University of Arkansas, which provided many exciting and funny experiences.
In 1972, Shela moved to Warrensburg to teach in the College of Education at Central Missouri State University. She taught there for 24 years and loved every day of it. At UCM, she was very active in campus life. She was on the Faculty Senate, she was secretary of the Athletic Committee for several years, and she was chair of the Teacher Education Committee. She was the faculty adviser for Sigma Kappa Sorority and was also an adviser for Kappa Delta Pi (Student Teacher Association of MSTA), ACEI, and in 1995, she was named "UCM Advisor of the Year." She was awarded the College of Education and Human Service's Teaching Award twice during her career at UCM, and in 1995, she was honored with the Missouri State Governor Carnahan Award for Excellence in Teaching. She retired in 1996.
In 1976, she married Don Snyder, and her family suddenly "grew" with the addition of four teenaged children: Liz, Glenna, Don Jr., and Doug. Don and Shela and their continually growing family had 39 happy years. Shela leaves her husband, Don; her son, Steve; and granddaughters, Ashley Rackers (Aaron Rackers and great-grandchildren Chase and Ellisyn Rackers) and Aubrey Moss. She also leaves stepchildren Liz Rotert (Tim Rotert and granddaughters Claire Rotert and Whitney McLemore, Nick McLemore and great-grandson Connor McLemore); Glenna Fleeman (John Fleeman and granddaughter Sara Watkins, Landon Watkins and great-grandchildren Violet and Sawyer Watkins) and Jay Fleeman (Trudy Fleeman and great-grandchildren John and Delaney Fleeman); Don Snyder Jr. (Pam Snyder and granddaughter Tanya Cash); Doug Snyder (Lana Snyder and grandson Aaron Snyder (Melissa Snyder and great granddaughter Marlowe Snyder); Randi Reilly (Matt Reilly and great-granddaughter Austyn Reilly); and Dana Long (Zach Lavely and great-grandchildren Lukas Lavely and Thea Lavely).
Memorial contributions are suggested to the Shela D. Snyder Teacher Education Scholarship, established to honor Shela's 44 years of dedication to teaching, 24 of those years at CMSU/UCM. Contributions can be left in care of the funeral home.