Raymond Martin Urbanski
Raymond Martin Urbanski, 75, retired colonel USAF, died Tuesday, June 30, surrounded by his wife, daughters and son holding his hand.
Funeral services will be held at 10:30 a.m. Monday, July 6, at the First Presbyterian Church of Warrensburg with the Rev. Don Wilson officiating. Pallbearers will be George Urbanski, George Michael, Jim Aubele, Jim Herhold, David Herhold and Henry Croes.
Interment will be held at noon at the Missouri State Veterans Cemetery in Higginsville, Missouri, with full military honors provided.
The family will receive friends from 6-8 p.m. Sunday, July 5, at Sweeney-Phillips and Holdren Funeral Home in Warrensburg.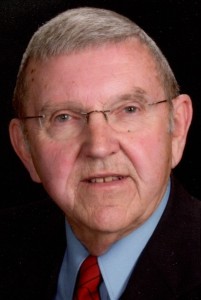 Ray was born July 24, 1939, in Chicago, Illinois, the son of John and Marie (Orzechowski) Urbanski. He graduated from Saint Ignatius Preparatory School in Chicago, lass of 1957. He earned his bachelor's degree in forestry from the University of at Urbana Champaign, Illinois. He joined the U.S. Air Force in 1962, retiring in 1986. The majority of his career was spent as an evaluator with the Minute Man Missile System.
Upon retirement, Ray ventured into real estate as an agent with Coldwell Banker in Warrensburg until January 2014. Ray enjoyed personal relationships he built through both careers. He was a member of First Presbyterian Church, where he served as elder, deacon and loyal member of the Friday men's coffee group. He was also a longtime member of the Sunrise Optimist Club.
Ray loved traveling, reuniting with old friends, and helping others whenever he could. He valued the many relationships he had built through his work in the community.
Ray is survived by his wife of 45 years, Cynthia; his son, Michael Urbanski, and wife, Maureen, of Crystal Lake, Illinois; grandchildren, Lucas and Clare Urbanski, of Crystal Lake; and daughters, Rebecca and Jennifer Urbanski, of Warrensburg, Missouri.
He was preceded in death by his parents.

Memorial contributions are suggested to the First Presbyterian Church Building Fund or the American Lung Association and both can be left in care of the funeral home.