Dorothy Louise 'Dottie' Ross
Dorothy Louise "Dottie" Ross, 89, of Warrensburg, Missouri, died Thursday, April 23, at the Warrensburg Manor Care Center.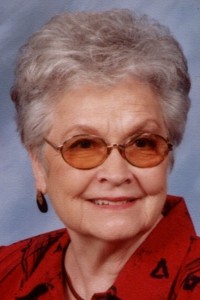 Funeral services will be held at 11 a.m. Monday, April 27, at Sweeney-Phillips and Holdren Funeral Home in Warrensburg with Pastor Jerry Basye officiating. Visitation services begin at 10 a.m. Pallbearers will be Bob Lotspeich, Greg Schlotzhauer, Alex Rodriguez, Ryan Bowie, Richard Bond and Steve Foster. Honorary pallbearers will be Robert D. Simmons and Virginia Ramsey.
Interment will follow at Sunset Hill Cemetery.
She was born Nov. 13, 1925, in Warrensburg, the daughter of William and Gussie Bell (Darrah) Foster.
She was united in marriage to George Courtney Ross on Dec. 28, 1943, in Warrensburg. He preceded her in death on April 13, 2009.
Dottie was a graduate of Warrensburg High School, class of 1943. After graduation, she started work at Joan McIntyre's hair salon. Later, Dottie became owner and operator of Dottie's Beauty Salon for more than 50 years and retired in 2000. She loved cooking, gardening, traveling to Branson, Missouri, attending all local ball games and spending time with her family. Dottie was a member of the First Christian Church in Warrensburg.
Dottie is survived by two daughters, Pam Brady and companion Greg Schlotzhauer, of Boonville, Missouri; and Debby Lotspeich and husband Bob, of Warrensburg; one grandson, Ryan Bowie, and wife Jalonna, of Lee's Summit; one granddaughter, Tedra Rodriguez, and husband Alex, of Warrensburg; five great-grandchildren, Taelyn, Emersyn and Breckyn Bowie, and Bryleigh and Blake Rodriguez; and several nieces and nephews.
She was also preceded in death by her parents, one brother, Albert Foster, one sister, Frankie Brasington, and one sister in infancy, Jean Foster.
Memorial contributions are suggested to the First Christian Church or the Warrensburg Animal Shelter and both can be left at the funeral home.