Cora L. Hansen-Donahoo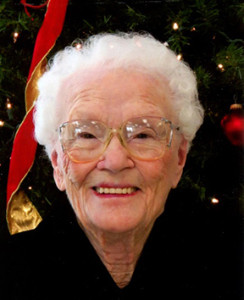 Cora L. Hansen-Donahoo, 95, died Tuesday, Feb. 24, at the Good Samaritan Care Center in Cole Camp, Missouri.
Funeral services will be held at 11 a.m. Saturday, Feb. 28, at Moore Funeral Home in La Monte, Missouri, with Pastor Lindy Apon officiating.
Visitation services will be at 10 a.m. Pallbearers will be Darrin Hansen, Quintin Hansen, Keith Finke, Kyle Finke, Alex Bruce and Vernon Cook. Honorary pallbearers will be Glen Johnson, Paul Hansen, Jr., Leon Hansen, Larry Barb, Terry McLemore, Louise Harpstripe and Helen Wells.
Interment will follow at La Monte Cemetery.
She was born May 1, 1919, in La Monte, Missouri, to her farming parents, Frank E. and Katie A. (Thomas) Vaughn.
Cora graduated from La Monte High School and married a farming man, T. Keith Hansen in 1936. They had three children, Melvin F. Hansen, Kathrine K. and L. Gaye Hansen. She lived in Missouri most of her life. Her husband Keith later drove for Greyhound Bus Company which took the family to St. Louis and North Kansas City, Missouri.
After the death of her first husband of 48 years in 1984, Cora married James Warren Donahoo in 1991, and lived in Colorado and Arizona until 2005 when her health brought her back to Missouri. She gained two more children with Warren, Elizabeth Vailes and David Donahoo. Cora loved quilting, cooking, gardening, her family and God.
Cora is survived by her children, Melvin F. Hansen and friend Pen of Sedalia, Missouri; Kathrine Finke and husband Harold of Green Ridge, Missouri; L. Gaye Sternberg and husband Jim of Las Vegas; Elizabeth Vailes and husband Clyde of Medina, Tennessee; and David Donahoo and wife Jeannie of Buena Vista, Colorado, 21 Grandchildren and a host of great-grandchildren.
She was also preceded in death by her parents, husbands, one brother, Robert E. Vaughn, two grandsons, Jody Finke and Arthur Finke.
Memorial contributions are suggested to the Green Ridge Baptist Church and can be left in care of the funeral home.