Thomas E. Rodgers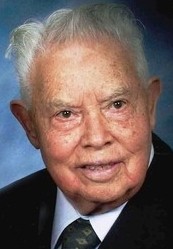 Thomas E. Rodgers, 94, of Holden, Missouri, died Friday, Jan. 30, at St. Luke''s East Hospital in Lee''s Summit, Missouri.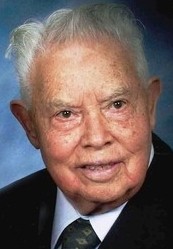 Tom was born Aug. 21, 1920, in Clifton Hill, Missouri, the son of Oliver J. and Frances Belle (Bowen) Rodgers. He graduated from Clifton Hill High School. He enlisted in the United States Army Air Corp during World War II, having served as a Mustang P-51 Mustang crew chief. Following his discharge from active duty, Tom attended Chillicothe Business College where he med Joanne Coleman. The couple was married on June 20, 1948, in Holden. They resided in Kansas City for a brief time prior to moving to Holden where Tom managed his father-in-law''s restaurant for several years. Later, he was employed at both Coleman Packing House and Lake City Ammunition Plant.
In the 1970s, Tom became employed with the Post Office in Holden, retiring from there in 1987. He was an active member of Holden First Christian Church, where he had served as both a deacon and an elder emeritus. He was an avid golfer and tennis player in years past. He was a member of the Warrensburg Country Club. Tom thoroughly enjoyed attending his grandchildren's' many activities, including school band functions and horse shows. One of his most fond memories was when he and his son, Lynn, went on the Honor Flight to Washington, D.C., a few years back.
Survivors include his wife, Joanne; three sons, Lynn Rodgers and wife, Cinda, of Springfield, Missouri; Lee Rodgers and Mary Nichols, of Grandview, Missouri; and Lyle Rodgers and wife, Pam, of Holden; five grandchildren, Stephen Rodgers and Rose Abdulla, of Springfield; Suzanne Rodgers and Mike Carroll, of Nevada, Missouri; Heather Rodgers, Anna Rodgers and Caroline Rodgers, all of Springfield; two great-grandchildren, Dylan Rodgers and Gavin Rodgers; and numerous nieces and nephews. He was preceded in death by two sisters, Golden Garner and Viola; and two brothers, William Rodgers and Russell Rodgers.
Funeral services will be 2 p.m. Tuesday, Feb. 3, at Holden First Christian Church with the Rev. Tim Whitmore officiating.
The family will receive friends from 6-8 p.m. Monday at Williams Funeral Chapel in Holden.
Memorial contributions are suggested to Holden First Christian Church.
Online condolences may be left at www.williamsfuneralchapel.net.