Hugh Dallas Morris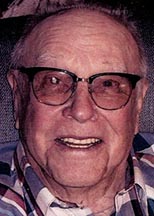 Hugh Dallas Morris, 95, of Leeton, Missouri, died Sunday, Jan. 18, at Golden Living Center – Westwood in Clinton, Missouri.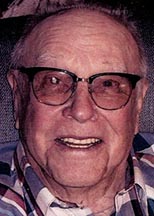 Cremation graveside services will be held at 1 p.m. Friday, Jan. 23, at Laurel Oaks Cemetery in Windsor, Missouri, with Pastor Leroy Goodwin officiating with full military honors provided.
He was born May 11, 1919, in Basher, Missouri, the son of John and Lizzie (Pierce) Morris.
He was united in marriage to Violet Florence Miller on July 29, 1939, in Ava, Missouri.
Hugh grew up in Ava and later moved to the Leeton and Windsor areas. He served in the U.S. Army during World War II, guarding German prisoners of war at Camp Howze, Texas. After his military career, Hugh and his wife owned and operated Morris Auto Sales, Service and Café in Leeton in the 1950s. He farmed and worked in hardware stores during the 1960s and later worked 20 years on road construction in Iowa until retiring in 1982 when he returned to live in Leeton. Hugh and Violet enjoyed yard sales, flea markets and visits with friends and family.
Hugh is survived by his wife, Violet; two sons, Howard Morris and wife, Donna, of Leeton; and Herbert Morris, of Clinton; three grandchildren and two great-grandchildren.
He was preceded in death by his parents, one infant son, Harold Morris, three infant sisters, one brother, Eldon Morris, and one sister, Inez Detherage.
Memorial contributions are suggested to Heartland Hospice and can be left in care of Sweeney-Phillips & Holdren Funeral Home in Warrensburg.