Wanda Ruth Goucher
Wanda Ruth Goucher, 82, died Dec. 14 at Golden Years Senior Facility, Harrisonville, Missouri.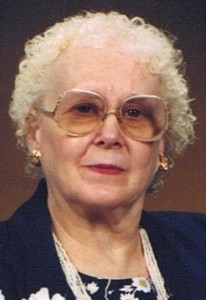 Wanda was born in Nebraska on March 17, 1932. She was the second daughter and fourth of six children born to Harvey and Iva Mae Goucher.
In 1936, the Goucher family moved to Missouri. During her early childhood, Wanda suffered a traumatic brain injury that left her with a speech impediment. Her speech impediment presented many difficulties and resulted in Wanda leaving school at age 16. She lived quietly at home with her parents until their respective deaths, her father in 1960 and her mother in 1986. Despite her physical challenges, Wanda persevered, overcoming her limitations and earning a GED, which enabled her to gain employment at Central Missouri State University in Warrensburg, Missouri, for 20 years. After retiring, Wanda purchased a home in Windsor, Missouri, where she lived until 2013.
Wanda was a quiet, gentle woman who was loved by many, but few expressed their love for her in words. The words expressed posthumously are spoken too late for the person who has passed away.
Wanda had many strengths, which few people outside of her immediate family observed. She was talented at needlework, giving handmade gifts to each family member at Christmas time. Wanda loved each of her nieces and nephews and eagerly looked forward to their visits. She was always ready to entertain visitors with a game of cards or a board game. Wanda had an infectious giggle and loved to tease the little children to make them giggle, too. Nearly every family member will agree their earliest childhood memories include Aunt Wanda.
In addition to her many nieces, nephews, great-nieces and great-nephews, Wanda is survived by two sisters, Helen Simon of Warrensburg, and Barbara Champion of Marshall; and two brothers, Henry Goucher of Lee's Summit, and Lyle Goucher of Belton, Missouri. She was preceded in death by her parents and one brother, Wayne Goucher of Windsor, Missouri.