Patricia Ann Boyette
Patricia Ann Boyette, 85 of Eldon, Missouri, deid Sunday, Dec. 7, at Warrensburg Manor Care Center.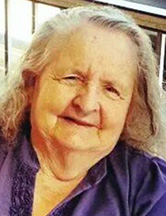 Per Patricia''s wishes, following cremation, there will be no services.
Patricia was born June 8, 1929, in Charleston, West Virginia, the daughter of Russell and Elizabeth (Putnam) Williams. She graduated from Charleston High School. She resided in San Bernardino, California, for the majority of her adult life. In 1988, Pat moved to Warrensburg. She later resided in Eldon for three years prior to moving to Warrensburg Manor. She enjoyed puzzle books, RC Cola and hot dogs.
Survivors include 10 children, Bob Boyette and wife, Casandra, of Lake of the Ozarks, Missouri; Jon Boyette and wife, Debbie, of Phoenix, Arizona; Dan Boyette and wife, Glenda, of Stover, Missouri; Harold Boyette of Ashville, N.C.; David Boyette and wife, Brenda, of San Bernardino; Judie Barnes of Spokane, Washington; Kathy Boyette of Spokane; Yvonne Bostick of Warrensburg; Billy Williams and wife, Angie, of Elgin, Oklahoma; and Michael Williams and wife, Bianca, of Dyersburg, Tennessee; three sisters, Sandy, Georgina and Betty; 38 grandchildren; 54 great-grandchildren; one great-great-grandchild and several nieces and nephews. She was preceded in death by two brothers, Jack and Conrad.
Arrangements entrusted to Williams Funeral Chapel in Warrensburg.
Online condolences may be left at www.williamsfuneralchapel.net.