Charles Kenneth 'Chuck' Shumate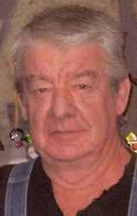 Charles Kenneth "Chuck" Shumate, 68 of Holden, Missouri, formerly of the Warrensburg, Missouri, area, died Thursday, Nov. 6, at Lee's Summit Medical Center.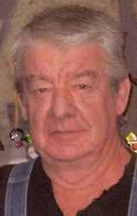 Funeral services were Sunday, Nov. 9, at Williams Funeral Chapel in Holden with Pastor Don Henson and Deacon Greg Poe officiating. Interment followed in Pisgah Cemetery north of Chilhowee, Missouri. Pallbearers were be Chris Austin, Terry Austin, Howard Baker, Kole Shumate, Ryan Anderson, Dalton Woods and Dusty Shumate.
Chuck was born Dec. 26, 1945, in Warrensburg, the son of Charles K. and Laurabelle (Cunningham) Shumate. He graduated from College High School in Warrensburg. He resided outside Centerview for 29 years. During this time, he worked for Pete Church, and broke horses. Chuck also worked at the Innes Mills Elevator in Warrensburg. He was united in marriage to Joyce E. (Rhoades) Anderson on Aug. 20, 1993, in Tulsa, Oklahoma. Shortly after, the couple moved to the family farm near Warrensburg for 19 years. During this time, he was employed with Stahl's Specialty Company as a machinist and fork truck driver. Chuck retired from Stahl's in 2007 following 26 years of service. For the past two years, they have resided in Holden. He thoroughly enjoyed raising Angus cattle and baling hay during the years on the farm near Warrensburg. He was a member of Warrensburg Saddle Club and also the Johnson County Coon Hunters Association, where he was vice president at one time.
Survivors include his wife, Joyce; son, Kenny Shumate and wife, Tracy, of Holden, Missouri; three daughters, Connie Shumate, Cathy Shumate and Jessica Shumate, all of Kansas City, Missouri; stepdaughter, Amy Hillsman and husband, Ernie, of Holden; stepson, Darrin Anderson and Marcy Evans of Holden; sister, Berdina Zink of Warrensburg; brother, Lynn Shumate and wife, Renee, of Warrensburg; eight grandchildren and two great-grandchildren. He was preceded in death by both parents.
Memorial contributions are suggested to Life Church of Centerview or Pisgah Cemetery Association.
Online condolences may be left at www.williamsfuneralchapel.net.