Daniel J. Hatt
Daniel J. Hatt, 54 of Kingsville, Mo., died Friday, Sept, 19, at his residence.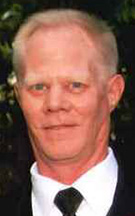 Memorial services will be 6 p.m. Wednesday, Sept. 24, at Wesley Chapel Methodist Church north of Kingsville with Pastor Tamara Mortenson officiating.
There will be a private interment at a later date.
Daniel was born Sept. 17, 1960, in Kansas City, Mo. He graduated from William Chrisman High School in Independence. He was united in marriage to Carla Shuman on Aug. 23, 1981, in Kansas City. The couple made their home in Independence for a brief time prior to moving to Grandview. Later, they resided in Blue Springs for five years. In 1997, they moved to their current home north of Kingsville. Dan played a lot of softball in years past. He was an avid crappie fisherman and he also loved hunting.
Survivors include his wife, Carla; son, Brandon Hatt and wife, Sandi, of Grain Valley, Mo.; daughter, Christine Geiger and husband, Matt, of Las Vegas, Nev.; four grandchildren, Lainey Hatt, Kaylee Bryant, Olivia Geiger and Juliet Geiger; and mother-in-law, Clarice Akins of Peculiar, Mo. He was preceded in death by his mother, Alyce Hatt and a brother, Stephen Hatt.
Arrangements entrusted to Williams Funeral Chapel in Holden.
Online condolences may be left at www.williamsfuneralchapel.net.