Emma Grace Fuller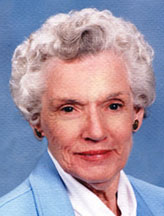 Emma Grace Fuller, 95, of Warrensburg, Mo., died Sunday, Sept. 14, at Country Club Care Center in Warrensburg.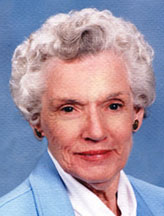 Funeral services will be 2 p.m. Wednesday, Sept. 17, at Williams Funeral Chapel in Warrensburg with the Rev. Louie Lowe of First United Methodist Church officiating. Interment will follow in Sunset Hill Cemetery in Warrensburg.
The family will receive friends from 1-2 p.m. Wednesday at the funeral home.
Emma was born Sept. 7, 1919, in Bosworth, Mo., the daughter of the Rev. Theodore A. Dowler and Lucy G. (Goodwin) Dowler. She graduated from College High School in Warrensburg in 1938. She was a seamstress with Unitog for nearly 30 years. Later, Emma was a cook at Warrensburg Manor Care Center. She was a member of First United Methodist Church. She was a longtime member of B.P.W. at one time. Emma was an avid bowler and she also loved fishing.
Survivors include her son, William Eugene "Gino" Fuller and wife, Linda, of Warrensburg; three grandchildren, Scott Johnson and partner, Charles Meltzer, of Healdsburg, Calif.; Brian Johnson and partner, Ken Holder, of Houston, Texas; and Barton Fuller and wife, Jan, of Kansas City, Mo.; two brothers, John R. Dowler and wife, Lorraine, of Eldon, Mo.; and Theodore L. "Ted" Dowler and wife, Beth, of Raymore, Mo.; and several nieces and nephews. She was preceded in death by her twin sister, Esther Muriel Ridenour; sister, Mary Sarah Harriman; brother, Walter E. Dowler; and two grandchildren, Todd Fuller and Lisa Fuller.
Memorial contributions are suggested to Meals on Wheels in care of the funeral home.
Online condolences may be left at www.williamsfuneralchapel.net.