James Randolph Hutson
James Randolph Hutson, 57, of Warrensburg, Missouri, died Sunday, Aug. 10, at his home.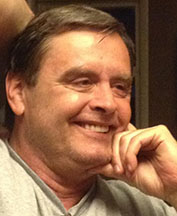 Cremation is planned under the direction of Sweeney-Phillips & Holdren Funeral Home in Warrensburg.
Jim had a way of making everyone he met feel special. He was a Christian with a super sense of humor known as "Jimmy jokes." Every day he handed out smiles and lent a helping hand for those in need.
Jim spent his younger years as a bread delivery man, working for both Manor Bakers and Colonial Bakery in Kansas City, Missouri. Later, Jim attended DeVry University of Kansas City and received his degree in computer and electronics technology. With degree in hand, Jim opened his own company, MoKan Technology, in Butler, Missouri. After moving to Warrensburg, Jim continued to use his skills by repairing computers for his friends and neighbors.
Jim was born Nov. 3, 1956, in Wilkinsburg, Pennsylvania, the son of Edward Kenneth and Margaret Emma (Harris) Hutson. He is survived by one sister, Diana Dee Thomas, and husband, Herman, of Butler; one brother, Edward Michael Hutson, of Albuquerque, N.M.; several nieces and nephews; special friend, Sharon Nichols of Lake Lotawana, Missouri; and his dog, Rocky. He was preceded in death by his parents and, in 1979, by his younger brother, John Kenneth Hutson.
Because Jim loved to help those around him, the family suggests donations to a neighborhood food pantry or animal shelter.