Dorothy Lee McMeekin
Dorothy Lee McMeekin, 91, of Warrensburg, Missouri, died Saturday, July 19, at Country Club Care Center.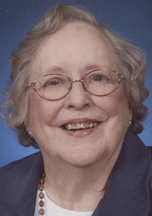 Funeral services will be held at 2 p.m. Wednesday, July 23, at Sweeney-Phillips & Holdren Funeral Home in Warrensburg with the Rev. Jackson Short officiating.
Pallbearers will be Steve Weitzel, Dave Weitzel, Mark Weitzel, Beau McMeekin and Rick McBride.
Interment will follow at Sunset Hill Cemetery.
The family will receive friends from 1 p.m. until service time Wednesday at the funeral home.
She was born Jan. 17, 1923, in Warrensburg, the daughter of Leslie A. and Lillian May (Ford) McMeekin. Dorothy was a longtime member of the First United Methodist Church. She graduated from Warrensburg High School in 1941, attended Central Missouri State College for two years and was a member of Alpha Sigma Alpha. In 1943, she entered nurses training at the Missouri Methodist Hospital, graduating in 1946. During training, she was part of the World War II cadet nurse program. After working several years at the Warrensburg Clinic, she took a post-graduate course in pediatrics and worked in Detroit for two years. Dorothy then spent 21 years in Columbus, Ohio, in obstetrics and gynecology nursing. In 1973, Dorothy returned to Warrensburg and worked 20 years at Western Missouri Medical Center before retiring in 1993.
Dorothy is survived by her sister and brother-in-law, Janet and Pete Weitzel of Ballwin, Missouri; one niece, Barbara McMeekin, Springfield, Missouri; four nephews, Beau and Jenny McMeekin of Prescott, Arizona; Steve and Susan Weitzel of Chesterfield, Missouri; Mark Weitzel of Spring Hill, Kansas; and Dave and Norma Weitzel of Eureka, Missouri; five great-nephews, three great-nieces and two great-great-nieces.
She was preceded in death by her parents and one brother, John Thomas McMeekin.
Memorial contributions are suggested to DAR or the First United Methodist Church Building Fund and both can be left in care of the funeral home.