Darlene E. Johnson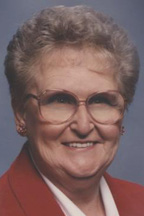 Darlene E. Johnson, 89, of Warrensburg, Missouri, died Thursday, June 19, at Country Club Care Center.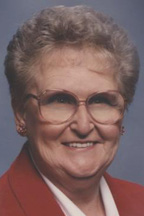 Memorial services will be held at 10:30 a.m. Tuesday, June 24, at Sweeney-Phillips & Holdren Funeral Home in Warrensburg with Pastor Jerry Basye officiating, and visitation services beginning at 10 a.m.
She was born Aug. 18, 1924, in Audrain County, Rush Hill, Missouri, the daughter of Oscar Henry and Ada (Melahn) Erdel.
She was united in marriage to James E. Johnson Jr. on Jan. 2, 1946, in Moberly, Missouri, who preceded her in death on April 2, 2003.
Mrs. Johnson attended Erisman grade school for eight years and graduated from Mexico, Missouri, high school. She worked as a secretary to Dr. Benjamin S. Jolley for 2½ years. Mrs. Johnson was a homemaker and active in PTA and Campfire girls in Moberly. They moved to Clinton, Missouri, in 1970 and to Warrensburg in 1999. She was a member of the First Christian Church in Warrensburg and Christian Women's Fellowship. Mrs. Johnson was also a member of the ABC Club and enjoyed her bridge clubs and friends.
She is survived by three children, Ronald and wife, Gudrun Johnson, of Morrow, Georgia; Nancy and husband, James Welsh, of Raleigh, North Carolina; and Christine and husband, Melvin Simon, of Warrensburg; two granddaughters, Amanda Gayle and husband, Eric Baalman, of Quinter, Kansas; and Ashton Leigh and husband, Nick Dennis, of Oak Grove, Missouri; two step-grandchildren, Michelle Mayorga of Rex, Georgia; and Raul and Stacy Mayorga of Stockbridge, Georgia; four great-grandchildren, Shaylee Ann, Peyton Elizabeth and Kyla Grace Baalman of Quinter, Kansas; and Charles Andrew Dennis of Oak Grove; sister-in-law, Georgia Correll of San Angela, Texas; and nine nieces and nephews.
Mrs. Johnson was also preceded in death by her parents.
In lieu of flowers, memorial contributions are suggested to the First Christian Church of Warrensburg or Crest Ridge Athletic Booster Club and both can be left in care of the funeral home.