J. B. Smith
J. B. Smith, 66, of Knob Noster, Missouri, died Monday, June 16, at his home.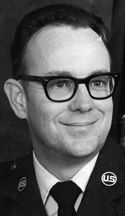 Funeral services will be held at 10 a.m. Friday, June 20, at Sacred Heart Catholic Church with Father Bill Bartoul and Deacon Joe Lemay officiating, and full military honors provided by Whiteman Air Force Base Honor Guard. Pallbearers will be Matt Rusher, Jeff Smith, Tony Diaz, Phillip Smith, Bobby Smith and Mike Smith.
Cremation is planned and a private burial will take place at a later date.
The family will receive friends from 6-8 p.m. Thursday, June 19, at Sweeney-Phillips and Holdren Funeral Home in Warrensburg, Missouri.
He was born Feb. 25, 1948, in Corsicana, Texas, the son of Bruce and Cora (Herron) Smith.
He was united in marriage to Rebecca Marrujo on Oct. 7, 1971, in Buckner, Missouri.
J. B. was a graduate of Brownsboro High School class of 1967. He then joined the U.S. Air Force, serving during Vietnam and retired after 20 years with the rank of master sergeant. He was a member of AmVets Post 143 in Knob Noster and a member of the Knob Noster Holy Parrish at Whiteman Air Force Base. J. B. loved working in his yard and gardening, working on cars, collecting die cast cars, loved John Wayne, loved the Dallas Cowboys, and was an avid reader.
J. B. is survived by his wife, Rebecca; three children, Kellie Rusher and husband, Matt, of Shawnee, Kansas; Jeff Smith of Blue Springs, Missouri; and Jennie Smith and husband, Tony Diaz, of San Antonio, Texas; three brothers, Phillip Smith and wife, Brenda, of Murchison, Texas; Bobby Smith and wife, Michelle, of Frankston, Texas; and Mike Smith and wife, Marie, of Brownsboro, Texas; two sisters, Mary Smith of Brownsboro, Texas, and Virginia Cantrell and husband, Joe, of Murchison, Texas; and two grandchildren, Soren Smith and Isabella Diaz.
He was preceded in death by his parents and one son, James Bruce Smith, in 1973.
Memorial contributions are suggested to the Missouri State Veterans Home in Warrensburg and can be left in care of the funeral home.